A few days ago I got back from visiting my friends Carol and Mike, who just had a baby girl! I couldn't wait to meet her! You may remember my visit to their house last year. I knew with a 2-month-old in the house that we'd be hanging out at home mostly. This was ok with me because I knew Carol would be down with making some goodies in the kitchen. We found these Italian Sausage Stuffed Mushrooms in the latest issue of Food Network magazine. There were several variations, but these sounded so good with all the cheese and fennel. These hearty appetizers would also be great for watching the game later that night!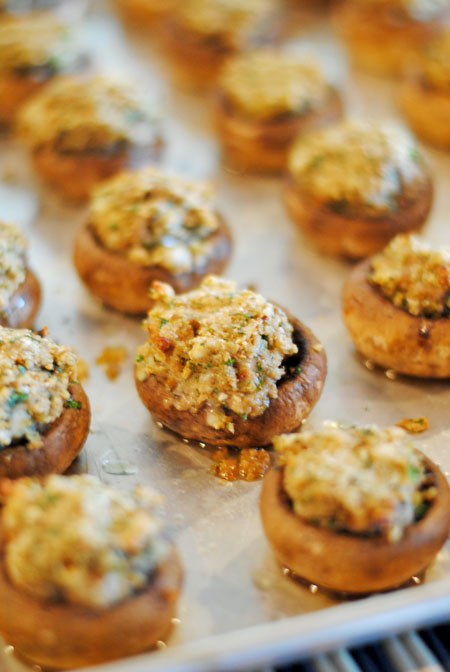 So, how's it taste?
Everyone loved them! I was worried the fennel would be too prominent and that Carol's husband Mike wouldn't like them, but he approved! I love cooked fennel because it gets so mellow and just insanely delicious. It was a nice change using it over onion, but you could certainly sub onion if fennel isn't your thing. The olives sounded like an odd addition, but they really went well with everything else. The smell of the sausage mixture assured me that we were about to eat something awesome. We only had seasoned breadcrumbs and I think they worked better than plain. Even with all those stuffing ingredients, it still needed that extra boost. These were so good that we all inhaled about six of them each in one sitting. I could not get over how well they turned out! Bookmark these for your next gathering. The perfect party appetizer and you can make them ahead!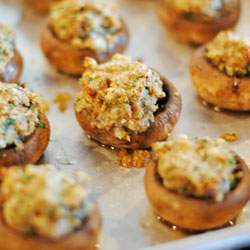 Italian Sausage Stuffed Mushrooms
Ingredients:
24 large cremini mushrooms
2 tbsp. olive oil
salt
4 oz. sweet Italian sausage, casing removed
1/2 finely chopped fennel bulb
2 chopped garlic cloves
red pepper flakes
1 cup breadcrumbs
1/2 cup shredded Fontina
2 tbsp. grated Parmesan
2 tbsp. chopped fresh parsley
2 tbsp. chopped green olives
Directions:
1. Preheat oven to 425F. Remove stems from mushrooms and finely chop for the filling.
2. Wipe the caps clean with a damp paper towel; toss with olive oil and season with salt. Arrange on a baking sheet.
3. Cook sausage in a skillet with olive oil over medium heat, breaking up the meat, until no longer pink, about 3 minutes. Add fennel and mushroom stems. Cook until tender, about 3 minutes. Add garlic and season with red pepper flakes; cook 1 minute. Let cool.
4. Mix cooled sausage mixture with breadcrumbs, Fontina, Parmesan, parsley, and olives. Divide mixture among mushroom caps.
5. Bake until mushrooms are tender and filing is golden, about 15 to 17 minutes. Let cool 5 minutes. Remove from baking sheet and serve.