Last weekend I was invited to a birthday brunch and needed to bring something to share. After seeing the list was sweet-heavy on what everyone else was bringing, I decided on something savory. I wanted it to be portable, easy to make, and in individual servings (easier to photograph since I wouldn't be taking pics at the party). It was surprisingly hard to find all of these requirements in one dish, plus add that the birthday girl doesn't like peppers or onions. I succeeded with Sausage, Egg, Cheese, & Hash Brown Muffins! Individual servings of what you'd find in a typical breakfast casserole and easily adaptable to different tastes.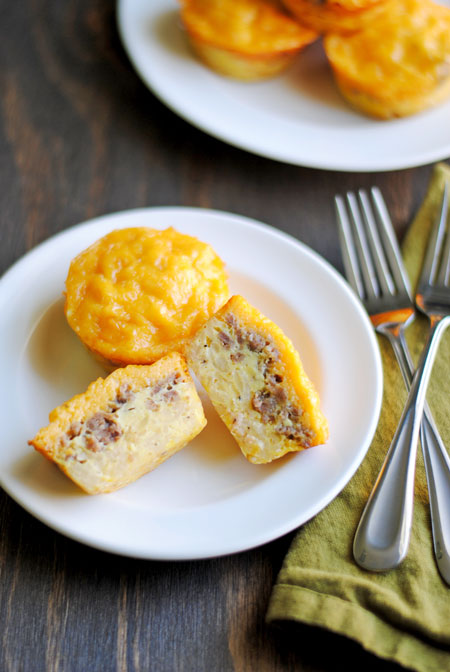 So, how's it taste?
Gosh these were incredible! I'm still watching my calories, but all that went out the window when I ate some. I mean you have to taste something you're bringing to a party, right? The smell as they were baking was killing me. I had one hot out of the pan (which was hella hot, so I don't recommend that!) and then I ended up cutting one in half for the photo so I had to eat that one, too. They are so stinkin' good. You really can't go wrong when it's a muffin with a hash brown base and covered in egg, sausage, and Cheddar cheese. Seriously my favorite breakfast food combo. It's pretty easy to adapt this as well. Use bacon or ham or no meat at all. Add any veggie you like or change up the cheese. Endless possibilities!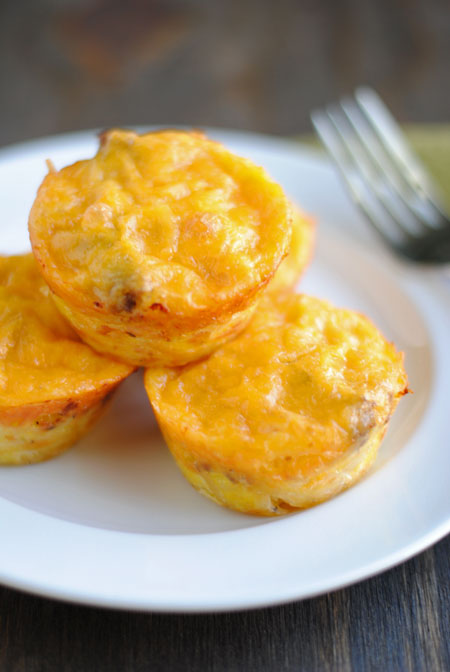 I adapted the original recipe and used crumbled sausage instead of chopping sausage links. I didn't like the way the circles of sausage looked using the links. To make this easy, I cooked the sausage the night before and stored it in the fridge. I also bought refrigerated hash browns instead of frozen so I didn't have to bother with thawing and the extra moisture. The original recipe calls for adding bell peppers and chives, which I think would blow my mind. I left those out since the birthday girl doesn't like either. I think a sprinkling of chopped, green chives on the top would be a nice presentation, too. These were really easy to make the next morning since I already had my sausage cooked. Just remember to spray your muffin pan like crazy so they don't stick!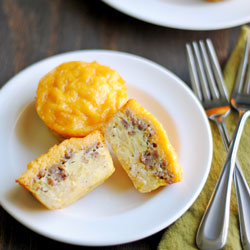 Yield: 24 muffins
Prep Time: 20 min
Cook Time: 30 min
Sausage, Egg, Cheese, & Hash Brown Muffins
Ingredients:
1 lb. ground sausage, fully cooked and fat drained
6 cups refrigerated shredded hash browns (I used Simply Potatoes)
6 tbsp. butter, melted
1/4 tsp. salt
1/4 tsp. pepper
12 eggs, lightly beaten
4 cups shredded Cheddar (fancy shredded works best)
*Note: This is the base recipe. You can use bacon or ham or no meat. Add veggies, herbs, and spices to your liking.
Directions:
1. In a bowl, combine hash browns, butter, salt, and pepper; divide evenly into 24 very well-greased muffin cups.
2. Press mixture onto sides and bottom of muffin cups.
3. Bake at 400F for 12-15 minutes or until lightly browned. Remove from oven, divide sausage crumbles into muffin cups.
4. In a bowl, combine eggs and cheese. Spoon mixture evenly into muffin cups. Return to oven, bake 13-15 minutes or until set.
*Note: It was easier for me to do steps 1 and 4 in two separate bowls. Measure half the ingredients in one bowl, the other in another bowl. Much easier to combine with not so much food in the bowl.