Do you ever have those ingredients in your pantry that are leftover from a previous recipe and you have no idea what you'll do with the rest of them? Enter prunes, er dried plums. Dried plums sound so much more appetizing, right? They really get a bad rep, but they're quite delicious and sweet and good for you! When I was planning my meals for the week, I came across Plum Oat Drop Biscuits. Well, what'dya know!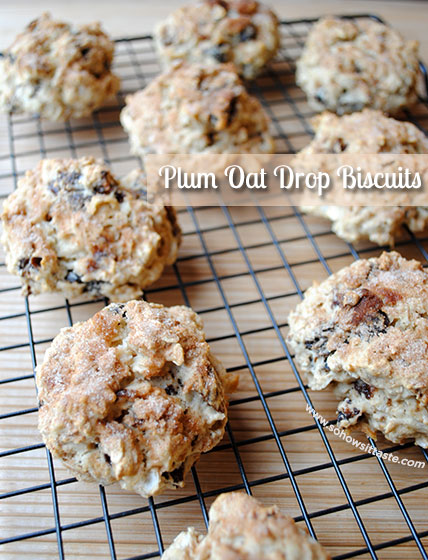 So, how's it taste?
I had in my head that they would be more like scones, but they truly are drop biscuits. They aren't very sweet at all. The only sweet you can taste comes from the chunks of dried plums. Fresh out of the oven they were downright heavenly. Soft, but sturdy thanks to the oatmeal, and those big chunks of plums! The recipe called for orange-flavored dried plums, but I only had regular. A touch of orange would have been just divine. I felt like sprinkling the cinnamon sugar on top wasted a lot of sugar, so if I make these again I think I'll mix in all the sugar mixture. Then they'd be just a touch more sweet. They're great on their own (and low calorie!), but a schmear of butter would be yummy, too. Oh, and I may or may not have tasted them with Hershey's chocolate spread. 😉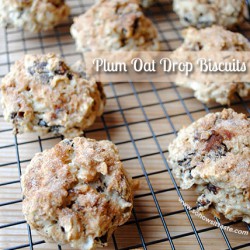 Yield: 12 servings
Prep Time: 20 min
Cook Time: 10 min
Plum Oat Drop Biscuits
Ingredients:
2 tbsp. sugar
1/2 tsp. ground cinnamon
1 1/3 cups all-purpose flour
1 1/3 cups old-fashioned oats (not quick)
1 tbsp. baking powder
1/4 tsp. salt
3 tbsp. butter
3/4 cup chopped pitted dried plums
1 cup fat-free milk (I used almond milk)
Directions:
1. Preheat oven to 450F. In a small bowl, mix the sugar and cinnamon; set aside.
2. In a large bowl, stir together flour, oats, baking powder, salt, and 1 tablespoon of the cinnamon sugar.
3. Using a pastry blender, cut in butter until mixture resembles coarse crumbs. Stir in plums.
4. Make a well in the center of the flour mixture. Add the milk all at once. Using a fork, stir just until moistened.
5. Grease a large baking sheet. Drop dough into 12 mounds (about 1/4 cup each) onto prepared baking sheet. Sprinkle the remaining cinnamon sugar evenly over all.
6. Bake for 10 to 12 minutes or until golden brown. Remove biscuits from baking sheet and serve immediately.
per serving: 156 calories, 4g fat, 27g carbs, 2g fiber, 4g protein