Homemade bread is such fun to make, especially when you have the help of a bread machine. I like to let the bread machine do the work for me, so I use the dough cycle a lot. This saves me quite a bit of effort, then I can take the dough out and shape the bread as I want. I make a lot of dinner rolls this way and they are delicious, plus you know the ingredients and there's none of those extra things you can't pronounce. I couldn't wait to take my easy technique to the next level and make Sun-Dried Tomato Rolls! Yep, all in the bread machine, too!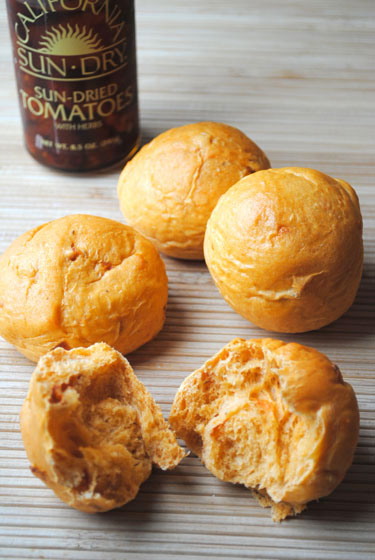 So, how's it taste?
So good! They were a nice change from regular rolls. I love the orange color with specks of sun-dried tomatoes throughout. The rolls are light and fluffy, just like the regular ones I make, but they have an added tang and slight sweetness from the tomatoes. I ate these with soup to make a hearty meal. A few times I split the rolls in half, toasted them, smeared on some butter, and had a nice little snack. I do love my carbs as much as I love chocolate!
The great thing about these rolls is you can freeze them in a freezer bag and pull out what you need. So make a few batches and have them in your freezer as a quick bread to go with any meal! If you like your rolls to have soft sides, place them closer together on the cookie sheet and bake them until the tops are golden brown.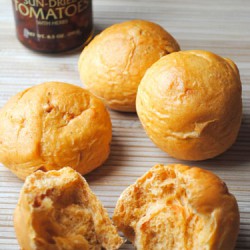 Sun-Dried Tomato Rolls
Ingredients:
3/4 cup warm milk
2 cups bread flour
1/4 cup chopped sun-dried tomatoes in oil, drained and 1 tbsp. oil reserved
1 tbsp. sugar
1 tsp. salt
1 1/2 tsp. bread machine yeast
Directions:
1. Place all ingredients in bread machine pan in the order recommended by the manufacturer.
2. Select the Dough/Manual cycle. Do not use the delay cycle.
3. Remove dough from pan; place on lightly floured surface. Cover and let rest 10 minutes.
4. Lightly grease cookie sheet with shortening or spray with cooking spray. Gently push fist into dough to deflate. Divide dough into 12 equal pieces. Shape each piece into a ball. Place 2 inches apart on cookie sheet. Cover and let rise in warm place 30 to 45 minutes or until almost double.
5. Heat oven to 350°F. Bake 12 to 16 minutes or until golden brown. Remove from cookie sheet to wire rack. Serve warm or cooled.