Oh hello there, perfect Banana Bread with Chocolate Glaze! Never had a slice of banana bread with chocolate glaze? You should! I think banana and chocolate go so well together. I love banana bread with chocolate chips or chocolate-dipped bananas or banana cupcakes with chocolate frosting. I don't know what it is, but I love that sweet hit of chocolate to what can be not-so-sweet banana bread. I can't believe it's never crossed my mind to add a chocolate glaze to banana bread!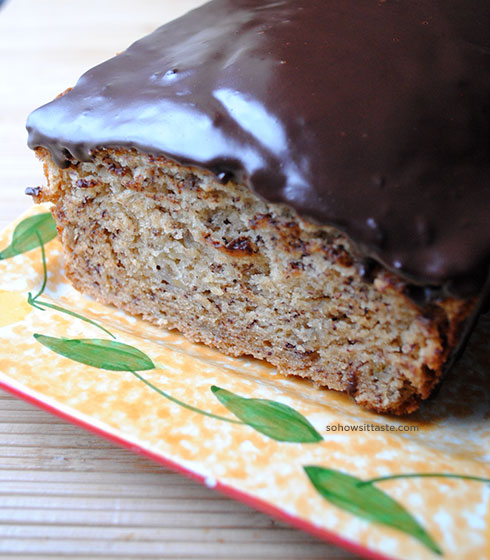 So, how's it taste?
It's fantastic! Exceeded my expectations so much! The banana bread smells heavenly baking in the oven. It's pretty much your classic banana bread (minus the nuts) and would be awesome on its own. Very moist and not too sweet, just perfect. The glaze is nothing more than semisweet chocolate chips and half-and-half melted together. I added in a few dark chocolate chips just for fun. It's not a large amount of glaze, just enough to give you a little sweet oomph with your slice.
Bonus! One slice comes in at 184 calories (not sure what regular banana bread is). And yes, the entire loaf is 16 slices, but 1/16th isn't a teeny tiny piece. So indulge!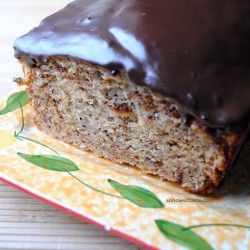 Banana Bread with Chocolate Glaze
Ingredients:
1 cup sugar
1/4 cup butter, softened
1 2/3 cups mashed ripe banana (about 3 bananas)
1/4 cup fat-free milk
1/4 cup reduced-fat sour cream
2 large egg white
9 oz. unbleached all-purpose flour (about 2 cups)
1 tsp. baking soda
1/2 tsp. salt
Cooking spray
2 1/2 tbsp. half-and-half
2 oz. semisweet chocolate, finely chopped
Directions:
1. Preheat oven to 350F.
2. Combine sugar and butter in a bowl; beat with a mixer at medium speed until well blended. Add banana, milk, sour cream, and egg whites.
3. Weigh or lightly spoon flour into dry measuring cups; level with a knife. Combine flour, baking soda, and salt, stirring with a whisk. Add flour mixture to banana mixture; beat just until blended (do not overbeat). Spoon batter into a 9 x 5-inch metal loaf pan coated with cooking spray. Bake at 350F for 1 hour or until a wooden pick inserted in center comes out clean. Cool in pan 10 minutes on a wire rack; remove from pan. Cool on rack.
4. Place half-and-half and chocolate in a microwave-safe bowl. Microwave at HIGH for 1 minute or until chocolate melts, stirring every 20 seconds. Cool slightly; drizzle over bread.
per serving: 184 calories, 5.2g fat, 3g protein, 32.6g carbs, 1.3g fiber