I'm really finding that I enjoy making bread from scratch. There's something very therapeutic about it. Granted, it's time consuming and not something I can do every night, but I really enjoy it. I haven't quite mastered the art of the final shape, but I'll get there. And in the meantime, I've got delicious bread to practice with like these Pumpkin Dinner Crescents. I bought an insane amount of pumpkin several months ago, so instead of using it all for dessert, I tried it as a bread…with excellent results.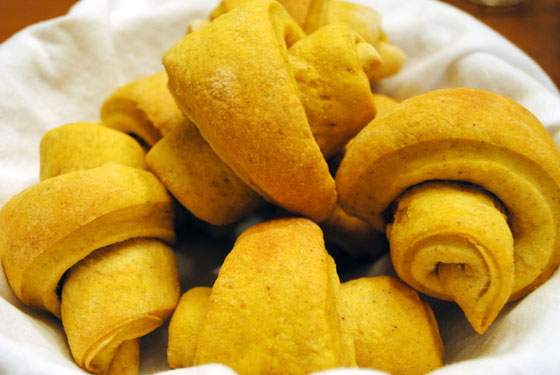 So, how's it taste?
Light, fluffy, and a hint of spice and pumpkin. I was afraid these rolls would be too overbearing with pumpkin flavor that they'd mimic a dessert. Definitely not the case. The pumpkin gave the rolls a gorgeous color for something a little different at the dinner table. Although they were a tad bit sweet, they still filled the role of a bread properly. They tasted fabulous served with honey butter and would be amazing with cinnamon butter, too. Freeze your leftovers and you'll enjoy them longer.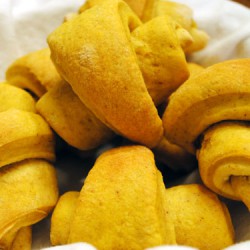 Pumpkin Dinner Crescents
Ingredients:
3 1/2 to 4 cups all-purpose flour
1 package regular active dry yeast
1/4 cup packed brown sugar
1 tsp. salt
2 to 3 tsp. pumpkin pie spice
3/4 cup water
1/2 cup canned pumpkin (not pumpkin pie mix)
4 tbsp. butter or margarine, softened
1 egg
Directions:
1. In large bowl, mix 1 cup of the flour, the yeast, brown sugar, salt and pumpkin pie spice; set aside.
2. In 1-quart saucepan, heat water, pumpkin and 3 tablespoons of the butter over medium heat to 120°F to 130°F, stirring occasionally. Add pumpkin mixture and egg to flour mixture. Beat with electric mixer on medium speed 3 minutes, scraping bowl occasionally. By hand, stir in just enough of the remaining 2 1/2 to 3 cups flour to make a soft dough that leaves sides of bowl. Place dough on floured surface. Knead 3 to 5 minutes or until dough is smooth and springy.
3. Place dough in large bowl greased with shortening, turning dough to grease all sides. Cover and let rise in warm place about 1 hour or until double in size.
4. Place dough on lightly floured surface. Knead a few times. Shape dough into a ball, then flatten. Roll into 15-inch circle. Spread with remaining 1 tablespoon butter. Cut into 16 wedges. Roll up each wedge, starting at wide end. On ungreased cookie sheet, place rolls with points underneath and curve slightly. Cover and let rise in warm place 20 to 30 minutes or until double in size.
5. Heat oven to 400°F. Bake uncovered 12 to 15 minutes or until golden brown. Serve warm.