Remember that Pumpkin Quick Bread a few posts back? This incredible Cinnamon Roll Quick Bread was the second flavor I made that same day. I mean when they say quick, they mean quick! This bread was easy, but required a bit more work than the pumpkin version. I had to get out the mixer and it was a bit more involved with the pecan-cinnamon swirl middle, but still a quick bread and very much worth it! Certainly faster than making homemade cinnamon rolls. I brought both breads to work and this one was by far the favorite. Which is funny because I liked the pumpkin best out of the oven, but this one proved to hold up and get better the next day. You can't go wrong with a cinnamon roll bread complete with glaze!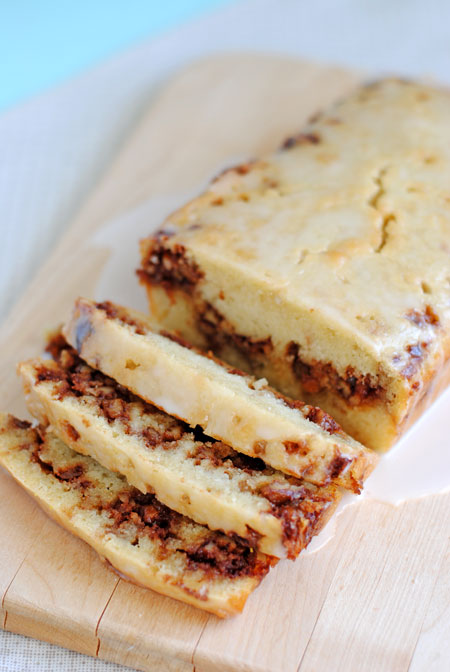 So, how's it taste?
This bread, in my opinion, tasted so much better the next day. It was delicious freshly baked, and I can't quite pinpoint what made it so fantastic after sitting overnight, but it was a hit! It's a really heavy bread and very messy. I almost made half of the glaze because I knew it would be a lot and run everywhere. You can see from the pics how it got crazy. I still think it may have been better to go with half the amount of glaze, but if half of it runs off…I'll let you decide on that one!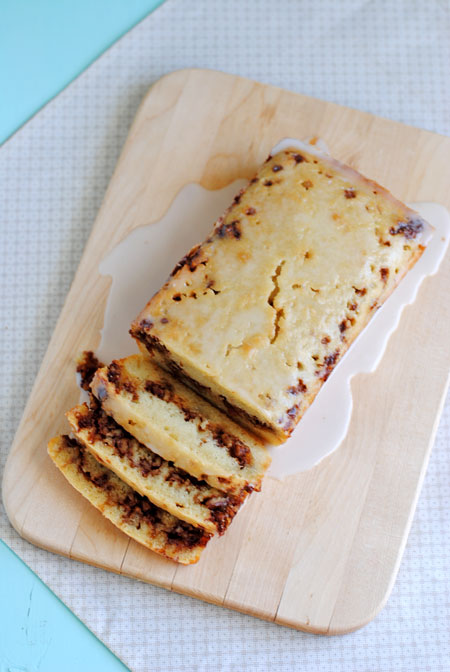 I love how the pecan-cinnamon filling is so thick. It's not stingy with the ingredients, so you can really taste the pecans, brown sugar, and cinnamon. When you're putting this filling over the batter, you'll feel like it's way too much…because it almost is! It's not just a sprinkling over the batter, it covers it and then some. I don't think there's anything wrong with a hefty helping of that good stuff!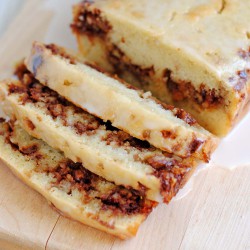 Cinnamon Roll Quick Bread
Ingredients:
Pecan-Cinnamon Swirl
1/2 cup light brown sugar
1/2 cup chopped pecans
1/2 stick butter, softened
1 tbsp. flour
1 tbsp. cinnamon
pinch salt
Vanilla Bread
1 3/4 cups flour
1 1/4 tsp. baking powder
1/2 tsp. salt
1 stick butter, softened
3/4 cup sugar
2 eggs
1 1/2 tsp. vanilla
3/4 cup milk
Glaze
1 cup confectioners' sugar
2 tbsp. milk
Directions:
1. Preheat the oven to 350F and line a 9-by-5-inch loaf pan with parchment paper, leaving an overhang on two sides; coat well with cooking spray.
2.  Mix all pecan-cinnamon swirl ingredients in a medium bowl and set aside.
3. Whisk flour, baking powder, and salt. Beat butter and sugar in a mixer until fluffy; beat in eggs, vanilla, and milk. Beat in the dry ingredients.
4. Pour half of the batter into the pan, top with the pecan mixture, then top with remaining batter. Bake 55 to 65 minutes, or until a toothpick inserted into the center of the loaf comes out clean.
5. Whisk confectioners' sugar and milk for the glaze. Drizzle over warm bread.