Scones, delicious scones! I'm still going strong with my love of all things scones since I discovered years ago that they are heavenly and not the dry wedges that they appear to be. I'm usually in the kitchen baking up a sweet variety, but I do like to change it up from time to time and throw in a savory version. Being a fan of goat cheese, I couldn't pass up making Goat Cheese & Onion Scones. A delicious scone full of goat cheese and tangy green onions? Oh and it's low calorie? Why yes, yes I'd like to have those in my life!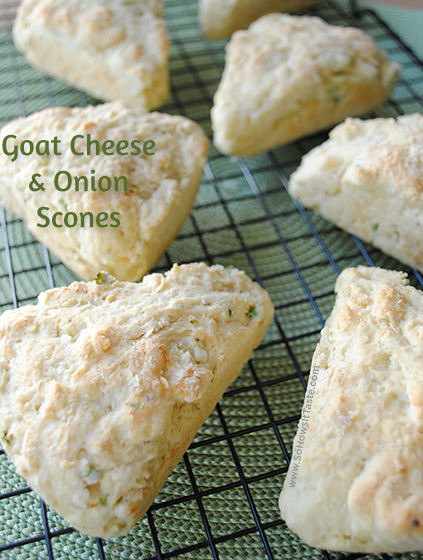 So, how's it taste?
First, I need to disclose that the scones pictured are larger than the normal serving size. I like to use my scone pan so I avoid flat, ugly scones and it makes eight. The recipe should technically make 12, so mine are little bigger. You can really smell the goat cheese while these were cooking! I couldn't wait to dig in. The flavor of goat cheese and green onion isn't as strong as I thought it would be after smelling them baking. It's only two tablespoons of green onion and I would up that next time. Heck, I may even up the goat cheese next time! I was hoping they'd stay in big chunks after baking, but they didn't. Feel free to substitute your favorite cheese and herb combo. Feta would work really well. These were perfect for a change up from rolls or regular bread with dinner. They freeze really well, too!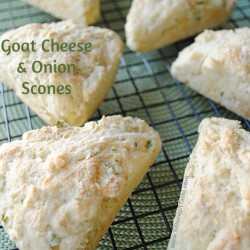 Yield: 12 servings
Prep Time: 20 min
Cook Time: 15 min
Goat Cheese & Onion Scones
Ingredients:
2 cups all-purpose flour
2 tbsp. finely chopped green onion
2 tsp. baking powder
1/4 tsp. baking soda
1/4 tsp. salt
1/4 tsp. freshly ground black pepper
1 beaten egg
4 oz. semisoft goat cheese crumbled or cut into small cubes
1/2 cup buttermilk or sour milk*
*To make 1/2 cup sour milk, place 1 1/2 teaspoons lemon juice or vinegar in a glass measuring cup. Add enough milk to make 1/2 cup total liquid; stir. Let mixture stand for 5 minutes before using.
Directions:
1. Preheat oven to 400F. In a medium bowl, combine flour, green onion, baking powder, baking soda, salt, and pepper. Make a well in the center of the flour mixture; set aside.
2. In a small bowl stir together the egg, goat cheese, and buttermilk. Add egg mixture all at once to flour mixture. Using a fork, stir just until moistened.
3. Turn out dough onto a lightly floured surface. Knead dough by folding and gently pressing dough for 10 to 12 strokes or until dough is nearly smooth. Divide dough in half. Pat or lightly roll half of the dough into a 5-inch circle. Cut into 6 wedges. Repeat with remaining dough. (Or use a scone pan and scoop dough into wells.)
4. Place wedges 1 inch apart on an ungreased baking sheet. Bake in a 400F oven for 15 to 18 minutes or until golden. Remove scones from baking sheet; serve warm.
per serving: 106 calories, 3g fat, 15g carbs, 1g fiber, 5g protein