How stinkin' cute are these Dinner Rolls Baked in a Jar? I've had these bookmarked to make for months now, but kept forgetting the 4-ounce jars. I finally found them at my local Kroger (I have no idea why I forgot about the Interwebs and just didn't order them). The recipe is for whole wheat buttermilk rolls with rosemary and although it's baking bread from scratch, they couldn't be easier thanks to a stand mixer. The presentation is adorable.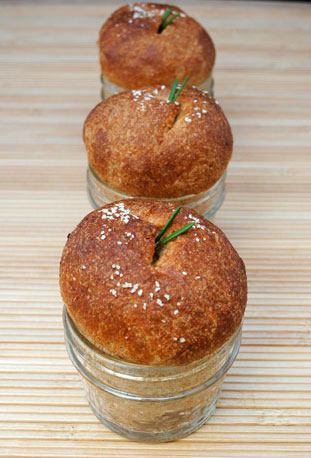 So, how's it taste?
Delicious! I've said it a million times, but you just can't beat fresh-baked bread. I like these rolls because the whole wheat makes them substantial, but they are actually pretty light and fluffy. Rosemary is a strong herb, but it's pretty subtle in the roll. The salty, crusty tops lend a nice crunch to the otherwise soft roll. Slather on some butter and it's carb heaven. I would definitely make these again for special occasions.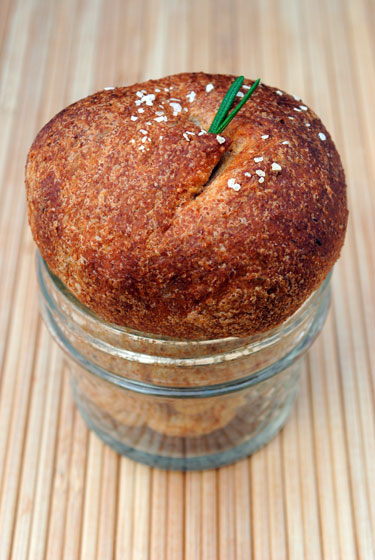 One tip: don't be tempted to make these without the jars. The dough is thin and the rolls spread all over the place when baking. They taste just as good, but make for flat, ugly rolls.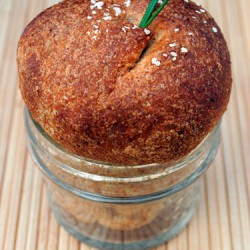 Dinner Rolls Baked in a Jar
Ingredients:
1 tbsp. active dry yeast
1 tbsp. sugar
3 tbsp. warm water
1 cup buttermilk, room temperature
1 large egg
2 1/2 cups whole wheat bread flour
1 tsp. sea salt
1 tsp. chopped rosemary, plus more for garnish
6 tbsp. unsalted butter, room temperature
12 (4 oz.) jelly jars
Directions:
1. In a small bowl, stir together yeast, sugar, and warm water. Let mixture stand until yeast begins to foam, about five minutes.
2. Meanwhile, combine whole wheat flour, chopped rosemary, and salt in the bowl of a stand mixer fitted with the dough hook. Make a well in the center.
3. Whisk yeast mixture with a fork until dissolved. Add buttermilk; stir in egg. Pour into the flour well.
4. With the mixer on low, combine flour and liquid until just combined. Turn off mixer and allow to sit for 10 minutes for the wheat to absorb the liquid.
5. Scrape down the sides of the mixer. With the mixer on low, add butter, one tablespoon at a time, until it is all absorbed.
6. Knead dough on low for five minutes, scraping down the mixer as needed. Dough will come together to be a smooth, elastic mass. It will be sticky, but do not add more flour.
7. Grease a medium bowl with olive oil and place bread dough in the bottom. Cover loosely with plastic wrap and allow to rise in a warm place for 1 hour.
8. Place your jelly jars on a cookie sheet and prepare by oiling generously with olive oil and sprinkling the bottoms with cornmeal. (I didn't sprinkle with cornmeal and they worked fine.)
9. Turn dough onto a oiled counter and divide into twelve pieces. Shape dough into round balls and place into prepared jelly jars. Cover with a clean towel and allow to rise for one hour.
10. Preheat oven to 400°F. Brush the tops of the rolls with melted butter and snip tops with scissors. Place rosemary sprig in the center of the snipped area and sprinkle tops with sea salt. (I found baking with the sprig produced a brown piece of rosemary. Snip the tops of the rolls but don't add the sprig until after baking.)
11. Place in a hot oven and bake for 22 minutes. Remove from oven and allow to cool slightly. Serve warm.