The way the house smells when bread is baking is unbelievable. Add to that the aroma of fresh herbs and you know something good is about to come out of the oven. Mediterranean Herbed Bread caught my attention because it uses the herbs I have growing in my backyard and fresh-baked bread is just about the most delicious thing on earth.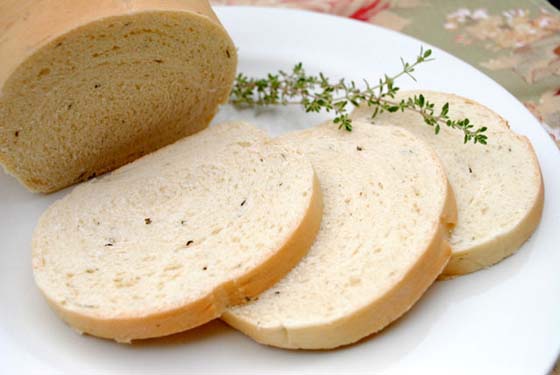 So, how's it taste?
Awesome. Warm out of the oven and with a thin layer of butter melting on a slice, it's so good. Fresh-baked bread is like comfort food to me. The herbs are outstanding mixed in the white bread. Despite all the different herbs in the dough, the flavor is subtle. I can't wait to make a sandwich with this bread and grill it like a panini. The recipe calls for using a bread machine, but if you don't have one, I'm sure you can mirror a recipe for basic white bread and follow those kneading instructions. Enjoy!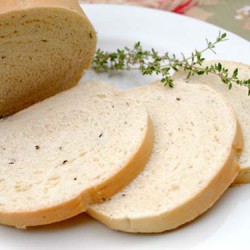 Mediterranean Herbed Bread
Ingredients:
1 cup water
1 tbsp. butter, softened
3 cups bread flour
2 tbsp. sugar
1 tbsp. dry milk*
1 1/2 tsp. salt
1 tsp. fresh basil, chopped
1 tsp. fresh oregano, chopped
1 tsp. fresh thyme, chopped
2 1/4 tsp. bread machine or quick active dry yeast
*Note: When a recipe calls for both dry milk and water, you can substitute liquid milk. Use the same amount of liquid milk as it calls for water.
Directions:
1. Measure all the ingredients carefully and place in bread machine pan in the order recommended by the manufacturer.
2. Select Basic/White cycle. Use Medium or Light crust color. (I use the dough cycle, then bake my bread in a loaf pan.)
3. Remove baked bread from pan, and cool on wire rack.