This is my year of discovering scones. As I admitted in a previous post (Blueberry Scones with Lemon Glaze), I had this thought that all scones were dry and boring. I was quickly proven wrong after I finally baked and tasted my very first scone. So now I'm scone obsessed. I'm seeking out all flavors and was happy to find a savory version, Cheddar Cornmeal Scones. These scones did not disappoint.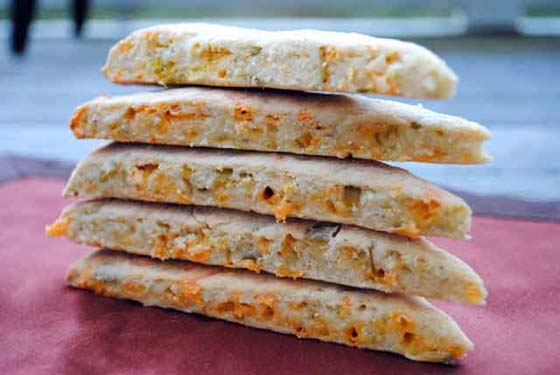 So, how's it taste?
Awesome. Scones are so versatile. I love the idea that they can be sweet or savory. As you can see from my picture, I haven't quite mastered how to form them. I keep rolling the dough out and they get too thin. Practice makes perfect! So I'll just have to keep making scones…I'm not unhappy about that in the least. These scones still tasted great despite their look. I'm usually not a fan of green chiles because I don't think they add much flavor, but I could really taste them in the scones. The sharp cheddar really came through as well, and I liked how the cornmeal added a hearty texture. These scones are perfect alongside a big bowl of soup.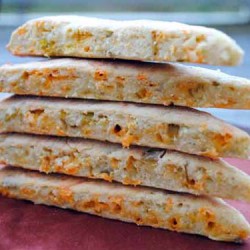 Cheddar Cornmeal Scones
Ingredients:
1 1/4 cups all-purpose flour
1 cup cornmeal
1 tbsp. sugar
2 tsp. baking powder
1/2 tsp. salt
1/3 cup firm butter
1/4 cup milk
1 egg, beaten
3/4 cup shredded Cheddar cheese (3 ounces)
1 can (4 ounces) chopped green chiles, undrained
Honey, if desired
Directions:
1. Heat oven to 425º. Grease cookie sheet.
2. Mix flour, cornmeal, sugar, baking powder, and salt in large bowl. Cut in butter, using pastry blender or crisscrossing 2 knives, until mixture looks like coarse crumbs. Stir in milk, egg, cheese, and chilies.
3. Turn dough onto lightly floured surface. Knead lightly 10 times. Pat or roll into an 8-inch circle on cookie sheet. Cut into 8 wedges, but do not separate.
4. Bake 20 to 25 minutes or until golden brown. Immediately remove from cookie sheet; carefully separate wedges. Serve warm with honey.