I can't believe Thanksgiving is over. This whole holiday season is going by way too fast. Over the next few days I'll be sharing what we had at our Thanksgiving table, starting with this delicious Herb Pull-Apart Bread. I have to give a huge thanks to my mom as she did pretty much all the work this year. Thanksgiving is usually my show in the kitchen, but I woke up sick and could barely stand the smell of food cooking. I didn't eat this bread until two days later, and it was amazing. If it was that good at two days old, imagine how it tasted fresh out of the oven!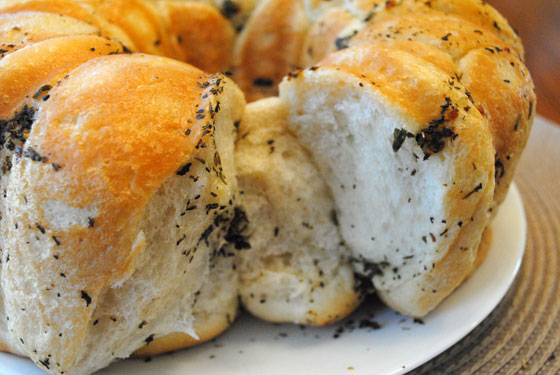 So, how's it taste?
I think I've told you before how I'm notorious for not reading instructions in advance. This bread recipe takes hours because the frozen dough balls have to rise for at least four, so make sure you start this early in the morning or follow the speed method on the bread package. It's a simple recipe, but produces such a yummy, different way to serve bread. Melt butter, add herbs, and pour over the frozen dough. Let it rise and then bake. The bread rolls stick together with the herby butter and you simply pull off what you want. I thought the recipe was a bit heavy on the garlic, so next time I'll reduce it to one clove or use garlic powder.
My mom loved this right out of the oven. She bakes homemade rolls a lot and after eating this said she might switch because it was so good! I like the presentation, too. A big "cake" of rolls and you pull off what you want. You could also slice it once it cools, if you prefer.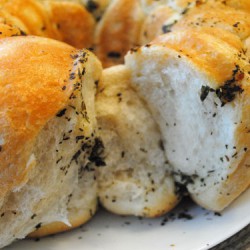 Herb Pull-Apart Bread
Betty Crocker
makes 12 servings
per serving: 220 calories, 11g fat, 27g carbs, 4g protein, 0g fiber
Ingredients:
3 tbsp. butter
1 tsp. dried basil leaves
1 tsp. parsley flakes
1/2 tsp. dried thyme leaves
2 cloves garlic, finely chopped (I'd reduce this to one clove)
24 balls frozen white dinner roll dough (from 3-lb package)
Directions:
1. Spray 12-cup fluted tube cake pan (do not use 10-cup) with cooking spray. In 1-quart saucepan, heat all ingredients except roll dough over low heat, stirring occasionally, until butter is melted.
2. Place half of the frozen dough balls in pan. Generously brush butter mixture over dough in pan. Layer remaining dough balls in pan. Brush with remaining butter mixture. Cover and let stand in warm place about 4 hours or until double in size.
3. Heat oven to 350°F. Bake 22 to 27 minutes or until bread sounds hollow when tapped and top is deep golden brown. Cool 5 minutes; turn upside down onto serving plate.