There's nothing like making your own bread. The smell in the house is intoxicating and these Sour Cream & Chive Rolls are no exception. I kept walking by my bread machine and peeking at the minutes left because I could not wait for them to be ready. If you didn't know what was baking, you'd know it by the smell. If you're a fan of sour cream and chives, this bread is for you!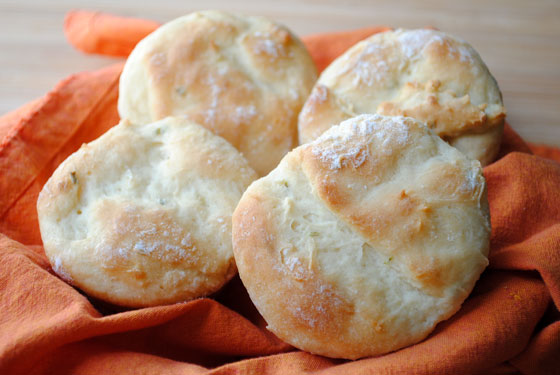 So, how's it taste?
It's so full of sour cream and chive flavor. Most times I find when I add sour cream to something that's going to be baked, it loses that distinct sour cream flavor and sort of takes a back seat. Not these rolls. The sour cream and chives are front and center. Tangy, oniony, I just loved them. Plain homemade dinner rolls are pretty spectacular themselves, but start adding bold flavors and it's an all new level. These rolls have a slightly different texture than my regular homemade rolls. They are still light and billowy, but almost have a coarse texture at the same time. Served piping hot (with a pat of butter if you want to splurge!), these rolls would be great with any main dish. Make a double batch and freeze them for anytime homemade bread.
I've included directions below for making these rolls by hand or using a bread machine.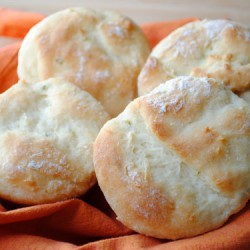 Sour Cream & Chive Rolls
Ingredients:
3/4 cup sour cream
2 tbsp. shortening
2 1/4 cups all-purpose flour
2 tbsp. sugar
1 tsp. salt
1 package (2 1/4 tsp.) regular or quick active dry yeast
1/3 cup very warm water (120 to 130 degrees)
1 egg
1 1/2 tbsp. chopped fresh chives
Directions:
1. Heat sour cream and shortening over medium heat, stirring frequently, until shortening is melted. Cool about 20 minutes or until lukewarm.
2. If you're using a bread machine, measure carefully, placing all ingredients in bread machine pan in the order recommended by the manufacturer. Select Dough/Manual cycle. Do not use delay cycle. Remove dough from pan, using lightly floured hands. Cover and let rest 10 minutes on lightly floured surface. If you're making the bread by hand, mix 1 1/4 cups of the flour, the sugar, salt, and yeast in large bowl. Add sour cream mixture, water, and egg; beat with spoon until smooth. Stir in remaining flour and the chives until smooth. Scrape batter from side of bowl. Cover and let rise in warm place about 30 minutes or until double.
3. Grease 12 medium muffin cups. Bread machine method, divide dough into 12 pieces and place into muffin cups. By hand method, stir down batter by beating about 25 strokes. Spoon into muffin cups. For both methods, let rise uncovered 20 to 30 minutes or until batter rounds over tops of cups.
4. Heat oven to 400F. Bake 15 to 20 minutes or until golden brown.