Since I cook quite a bit at home and I don't plan very well for multiple meals, I always have random ingredients leftover in the fridge. This time it was cottage cheese. I actually like cottage cheese straight up, but it's much more fun to turn into something tasty. Lo and behold in my bread machine book I found a recipe for Cottage Dill Loaf. Yes, you can make bread with cottage cheese!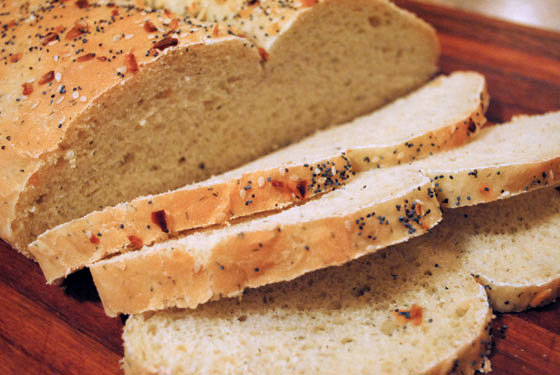 So, how's it taste?
I loved it! As I mentioned before with the pretzels, I like anything covered in "everything." This bread was similar with onions and poppy seeds on top. I substituted dill weed for dill seed on the inside and it had a very mild dill taste. Not overpowering at all. The combination of subtle dill and onion was just enough to make this bread something special over plain white. I'm not sure what the cottage cheese brings to the mix. Maybe just a replacement for milk. The texture was the same as any other homemade bread. This was a great savory bread for sandwiches or just as good as a snack with a pat of butter!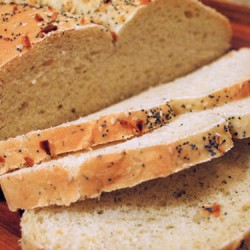 Cottage Dill Loaf
Ingredients:
1 cup water
1 tbsp. butter or margarine, softened
1/2 cup small-curd cottage cheese
3 1/2 cups bread flour
1 tbsp. sugar
1 tbsp. dill seed (I used about 1/2 tbsp. dill weed instead)
1 tbsp. dried minced onion
1 tsp. salt
1 1/2 tsp. bread machine or quick active dry yeast
1 tsp. dried minced onion
1 tsp. dill seed (I substituted poppy seed)
Directions:
1. Measure carefully, placing all ingredients except 1 teaspoon onion and 1 teaspoon dill seed in bread machine pan in the order recommended by the manufacturer.
2. Select the dough/manual cycle. Do not use delay cycles.
3. Remove dough from pan, using lightly floured hands. Cover and let rest 10 minutes on lightly floured surface.
4. Grease large cookie sheet. Shape dough into oval, 12x4 inches, tapering both ends slightly. Place on cookie sheet. Cover and let rise in warm place 30 to 45 minutes or until double. (Dough is ready if indentation remains when touched.)
5. Heat oven to 375. Spray water over loaf; sprinkle with 1 teaspoon onion and 1 teaspoon dill seed. Make long slash, 1/4 inch deep, down center of loaf, using sharp knife. Bake 10 minutes, spraying 3 times with water. Bake 15 to 20 minutes longer or until loaf is golden brown and sounds hollow when tapped. Remove from cookie sheet to wire rack; cool.