This post today is part of the Secret Recipe Club. Each month bloggers are assigned a blog and make something from it. For March, my secret blog is Jenna's Cooking Journey! I started drooling the minute I found Artichoke Bread on her blog. I'm obsessed with dips, especially creamy, rich ones and this reminded me of hot artichoke spinach dip. What I like about this recipe is that you don't have to bother with dipping…it's already smeared on the bread for you! I don't want to tell you how many pieces I ate when this was hot out of the oven. Let's just say it was my dinner with a big glass of milk!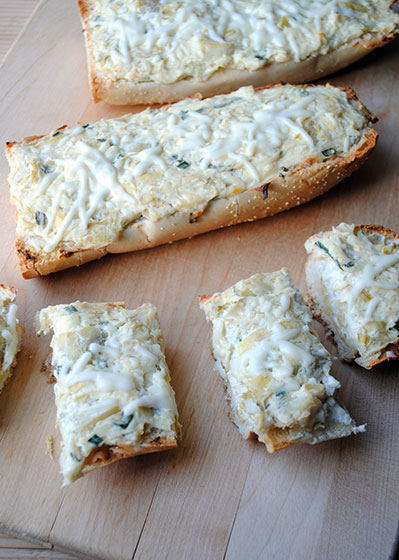 So, how's it taste?
It's fantastic. It really is like eating dip on bread. It's great because it's already prepared for you. No guessing how many crackers you need versus how big a scoop of dip is on your plate. It's almost too easy seeing as I kept shoveling it in my mouth! The original recipe calls for scooping out some of the bread, but I hate wasting food, so I kept the loaf of bread in tact. I'm glad I did because the dip is very rich and decadent and the bread helps balance that out so you don't get a mouthful of cream cheese. It's very hearty, too, so pairing this bread with soup or salad would make a fantastic meal. Unless you're like me and make the bread a meal. Nothing wrong with that! I tried to lower the calories where I could, but this is still by no means a low calorie choice, but totally worth the splurge. You all know I'm a cheese lover and this one has three kinds, so no complaints from me!
This bread would be great for parties as an appetizer. I had some of the spread leftover (because I didn't hollow out the bread), but I already have plans for it. I think it would be great as a spread on sandwiches. Thanks, Jenna, for this awesome recipe! It won't be the last time I make it!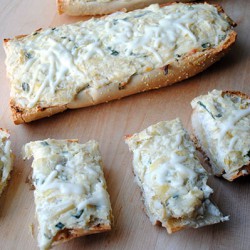 Artichoke Bread
Ingredients:
1 (14 oz.) can artichoke hearts, drained and chopped
2 green onions, sliced
2 cloves garlic, chopped
4 oz. cream cheese, room temperature (low fat works fine)
1/4 cup mayonnaise (low fat works fine)
1/2 cup greek yogurt or sour cream (nonfat greek or low fat sour cream works fine)
1/2 cup mozzarella, shredded
1/4 cup parmesan or asiago cheese, grated
1 loaf Italian bread, sliced in half lengthwise
Directions:
1. Preheat oven to 350F. Mix the artichoke hearts, green onions, garlic, cream cheese, mayonnaise, yogurt or sour cream, mozzarella, and parmesan, reserving some of the cheese.
2. Spread the mixture onto the bread slices and top with the reserved cheese.
3. Bake covered in foil for 15-20 minutes. Remove the foil and continue to bake until the cheese is melted and golden brown.(At this point, I used my broiler setting to brown the cheese and bread. Only takes a few minutes and watch carefully as it will burn quickly.)
4. Slice into "sticks" for easier eating.