I don't know about you, but I love to snack. Some of the best meals I've had are made entirely of snacks. Dips, chips, spreads, cheese, crackers. I love snacking! I pinned a recipe for saltines with this fiery mixture on it, but thought I could make it easier to eat using oyster crackers. Then I combined that idea with another snacking recipe and Fire Cracker Snack Mix was born! It's crunchy, salty, savory, and spicy. Perfect for game day or mindless eating on the couch watching some trashy TV!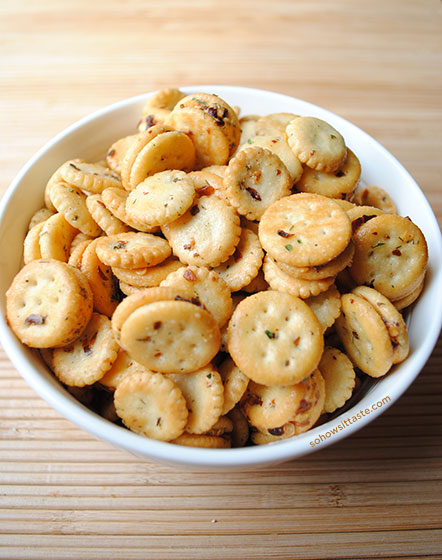 So, how's it taste?
This is one of those recipes that gets better the longer it sits. This mix doesn't last forever, but two days later it tasted better than when it was fresh. So make a huge batch and test it out for yourself! It starts with a packet of ranch dressing, which I will eat anything with ranch. It's jazzed up a bit with more dill, more garlic, and celery seed. It gets its fire from red pepper flakes and a touch of cayenne. If you want it really spicy, add more cayenne. Keep in mind that it gets spicier the longer it sits, so by day two, it's really fiery!
I loved the Ritz cheese bits in this. If you want, you could use all oyster crackers or all Ritz cheese bits. It's up to you how you want to make it. Pretzels would be a nice addition and even peanuts, too. Customize it to your liking and get to snacking!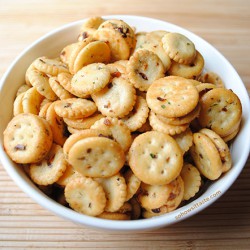 Fire Cracker Snack Mix
Ingredients:
3/4 cup vegetable oil
1 oz. packet ranch dressing mix
2 tbsp. crushed red pepper flakes
1/2 tsp. garlic powder
1 tbsp. dried dill
1 tsp. celery seed
1/8 tsp. cayenne
9 oz. bag oyster crackers
1 box Ritz bitz cheese crackers
Directions:
1. In a small bowl, mix all ingredients through cayenne until combined.
2. Place both crackers in a large, zip-top plastic bag. Continue to stir oil mixture so pepper doesn't settle and pour mixture over crackers. Shake bag until crackers are evenly coated.
3. Refrigerate for 24 hours and shake bag often to keep the crackers coated. Let crackers come to room temperature before serving. Store covered in the refrigerator. Crackers get spicier the older they are.