As I move along with blogging, I'm slowly revealing my food obsessions. By now you know chocolate is definitely one, but let me introduce another…the pecan. I could seriously eat an entire 2 lb. bag of them and not think twice about it until my stomach starts punishing me. I like all nuts pretty much, but there's something about pecans. They work well in both sweet treats and savory goodies, which is a plus for this pecan lover. The best way to eat a pecan for me is raw, but I like to dress them up and take them to another level of snacking. That led me into trying out two flavors: Balsamic Pecans and BBQ Pecans.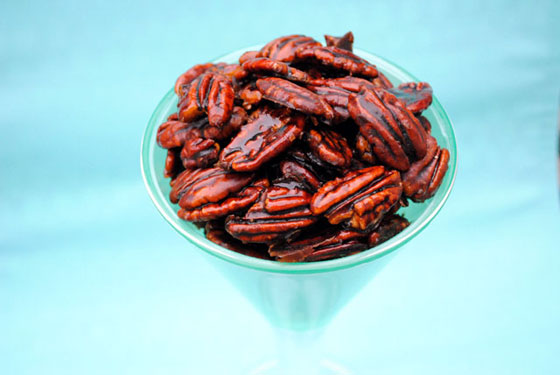 So, how's it taste?
First up are the Balsamic Pecans pictured above. This flavor starts out with toasted pecans and the end product is a tangy, sweet, crunchy addiction. I was curious how the balsamic would turn out and it was amazing. I brought these to work and they disappeared quickly and were the favorite over the BBQ pecans. The balsamic mixture creates a shiny coating on the pecans and they almost break apart like brickle. The flavor is a perfect mix of tangy from the balsamic, sweet from the brown sugar, plus a saltiness, and a hint of heat from the cayenne. I prefer raw pecans, but these surprised me. Much sassier than your basic toasted sweet pecans.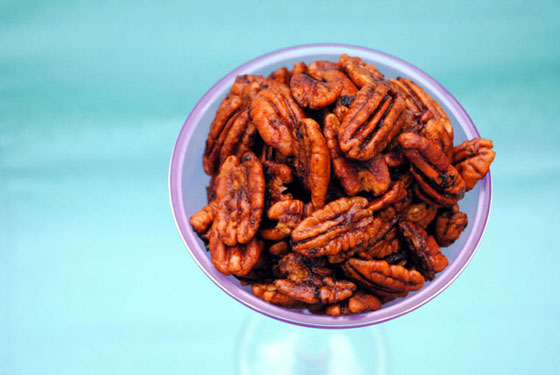 Next up are the BBQ pecans. These were my favorite of the two, but mostly due to this recipe using raw pecans. I was shocked at how much of a BBQ flavor it had with such simple ingredients. I could not keep my hand out of the bag. When I brought these to work, the bag was much, much smaller than the balsamic pecans! I am craving these all over again just thinking about it. Tangy from the Worcestershire, spicy from the chili powder, touch of sweetness from the ketchup, and some heat from the Tabasco. These would go really well with your favorite beer or a chilly glass of Coke. You can serve these warm or let them cool. I liked them more and more as they cooled.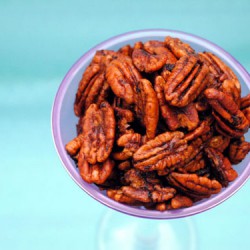 Balsamic Pecans and BBQ Pecans
Ingredients:
Balsamic Pecans
2 cups lightly toasted pecan halves*
1/2 cup firmly packed brown sugar
1/3 cup balsamic vinegar
1/2 tsp. kosher salt
1/4 tsp. chili powder or cayenne pepper (optional)
*To toast pecans: Heat oven to 350. Spread pecans in thin layer in shallow baking pan. Bake, stirring occasionally, 7 to 8 minutes or until golden brown. Cool.
BBQ Pecans
3 tbsp. unsalted butter, melted
2 tbsp. Worcestershire sauce
1 tbsp. ketchup
1/4 tsp. Tabasco sauce
1/2 tsp. chili powder
1 tsp. kosher salt
2 cups raw pecan halves
Directions:
Balsamic Pecans
1. Line a baking sheet with parchment paper.
2. Place pecans, brown sugar, and balsamic vinegar in a large skillet. Cook over medium heat, stirring until the sugar melts, the pecans are well coated, and there is no liquid at the bottom (about 3 to 5 minutes). Sprinkle evenly with salt and chili powder or cayenne pepper.
3. Transfer pecans to prepared baking sheet. Separate individual nuts. Cool before serving.
BBQ Pecans
1. Preheat oven to 200 degrees. Line a baking sheet with parchment paper.
2. Place the melted butter, Worcestershire, ketchup, Tabasco, chili powder, and salt in a bowl. Combine. Add the pecans and mix to coat.
3. Transfer pecans to baking sheet. Arrange in single layer. Bake stirring frequently until browned, about 30 minutes.
4. Drain the nuts on paper towels. Serve warm or let cool.