Let's get this straight. You want me to mix cream cheese with pineapple, and then throw in some salt, onion, and green pepper? Yes, it sounds like a horrible combination. Luckily I had tasted this Pineapple Cheeseball before I got the recipe, otherwise I'm not so sure if I would have ever made it. I don't care for green peppers, so if I'm requesting a recipe that has them in it, not to mention eating a recipe with them, then you know it must be good stuff!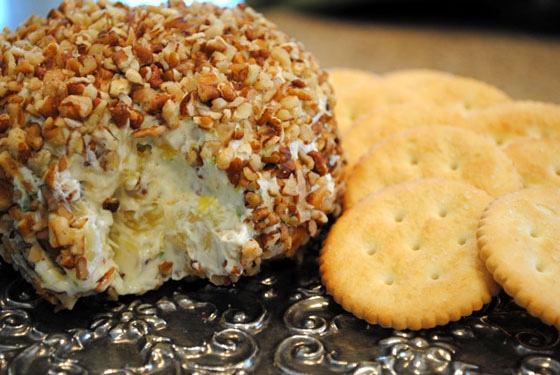 So, how's it taste?
Savory, salty, sweet, crunchy, creamy…it's addictive. Seriously addictive. I remember the first time my friend made this cheeseball. I'm pretty sure we all stood around the plate in her kitchen scooping it up, not able to shovel it in fast enough. I went online and found the recipe that very night. I was surprised it was so simple and even more surprised at the odd mix of ingredients. I think what really makes it all work is the seasoned salt, so use a good brand, like Lawry's. Every time I make this cheeseball, I sneak a few bites and end up reshaping the ball. My secret is out, but it is that irresistible! The recipe makes a very, very large cheeseball, so I usually half it. I guess I should start making two at a time. One for me, and one to take to parties (without a few bites missing)!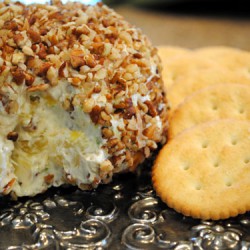 Pineapple Cheeseball
Ingredients:
2 (8 oz.) packages cream cheese, softened
1 small can (8 oz.) crushed pineapple in 100% juice, drained
1/4 cup finely chopped green pepper
2 tbsp. finely chopped onion
1 tbsp. seasoned salt
2 cups chopped pecans, divided
your favorite crackers such as Ritz or Triscuits
*Note: This recipe makes 2 cheeseballs. Halve the ingredients if you want to make one.
Directions:
1. Combine all ingredients except pecans. Fold in 1 cup pecans. Refrigerate. Shape into ball. Roll in remaining pecans. Serve with crackers.