I love fries. Especially crunchy, crispy fries from a certain fast food chain. I rarely treat myself to them, but if I'm in any restaurant and order something that comes with fries, I have a hard time not finishing my plate. Even when I'm full. They're just so good! I also love dipping them in barbecue sauce. I'm not a fan of frying at home, so when I saw these Barbecue Oven-Roasted Fries, I couldn't wait to give them a try.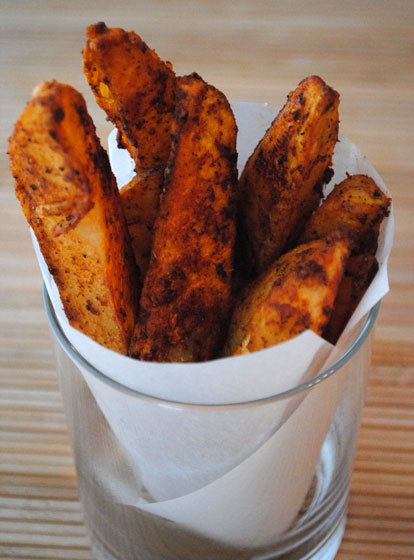 So, how's it taste?
While these fries aren't the same as those that are fried, they are pretty darn good. I was pleasantly surprised at how crispy they get in the oven. While my favorite style is shoestring, I'm not going to turn any type down. Waffle fries, steak fries, crinkle cut, you name it. These are definitely the steak fry variety, crunchy on the outside and soft on the inside. The barbecue seasoning is delicious. Since I prefer to dip my fries in barbecue sauce over ketchup, I really liked how these turned out. Spicy and smoky, you almost don't need to dip them in anything. These would be just as tasty without the barbecue seasoning and simply adding a sprinkling of salt and pepper. But if you're a condiment fan like I am, try making the blue cheese sauce from my Bacon Blue Burger post and dipping these fries in it. Phenomenal!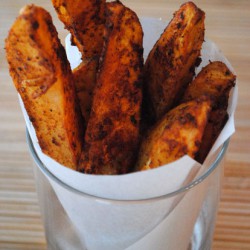 Barbecue Oven-Roasted Fries
Ingredients:
Fries
5 large Yukon Gold potatoes, well scrubbed
1/4 cup canola oil
1 tbsp. kosher salt
3 tbsp. seasoning mix
Barbecue Seasoning (makes 1/3 cup)
1 tbsp. smoked sweet paprika
2 tsp. ancho chile powder
2 tsp. ground cumin
2 tsp. kosher salt
1 tsp. onion powder
1 tsp. garlic powder
1 tsp. packed light brown sugar
1 tsp. freshly ground black pepper
Directions:
1. For the seasoning, mix all ingredients in a small bowl. The seasoning will keep in a tightly sealed jar in a cool, dark place for up to 1 month.
2. Preheat the oven to 400° F. Place a large rimmed baking sheet in the oven to heat for 10 minutes.
3. Meanwhile, slice each potato lengthwise into 8 slices. Put the potato slices in a large blow, add the oil, salt, and seasoning mix, if using, and toss to coat the potatoes evenly.
4. Remove the baking sheet from the oven and add the potatoes in an even layer. Bake the potatoes, turning occasionally, until golden brown and cooked through, about 35 minutes. Serve hot.