Roasting vegetables is very high on my list of best ways to get your veggies in. It's simple and it enhances their natural flavors, plus you can jazz it up with herbs and spices. Roasting asparagus is no different and it's perfect with just salt and pepper. However, now that I've discovered Roasted Asparagus with Balsamic Browned Butter, I'll be finishing off my veggies with this sauce from now on.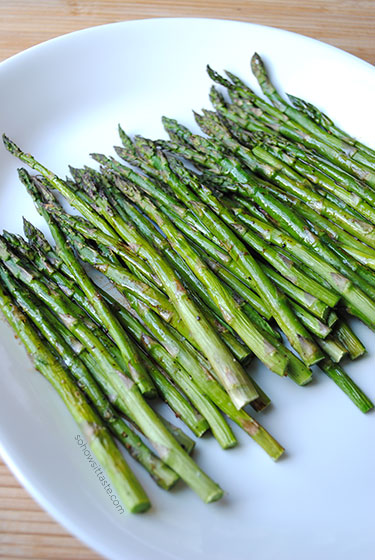 So, how's it taste?
It's just as fantastic and you think it's going to be. Roasting asparagus is super simple. You can use olive oil or in this case, spray with a bit of cooking spray. A sprinkle of salt and freshly ground pepper, then a 12-minute visit to the oven is all it takes for the roasting part. The sauce is pretty straightforward, too. Heat your butter in a skillet until it becomes that gorgeous, golden brown. Splash in a bit of soy sauce and balsamic vinegar and boom! Your world has just changed. It's not a huge amount of sauce (it is a low calorie recipe after all), but it's just enough to give a little something extra to the asparagus. It's slightly nutty from the browned butter with a bit of tang. I think this sauce would be great on almost any roasted vegetable, too.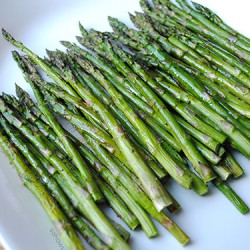 Roasted Asparagus with Balsamic Browned Butter
Ingredients:
40 asparagus spears, trimmed (about 2 lbs.)
Cooking spray
1/4 tsp. kosher salt
1/8 tsp. freshly ground black pepper
2 tbsp. butter
2 tsp. low-sodium soy sauce
1 tsp. balsamic vinegar
Directions:
1. Preheat oven to 400°.
2. Arrange asparagus in a single layer on a baking sheet; coat with cooking spray. Sprinkle with salt and pepper. Bake at 400° for 12 minutes or until tender.
3. Melt butter in a small skillet over medium heat; cook 3 minutes or until lightly browned, shaking pan occasionally. Remove from heat; stir in soy sauce and balsamic vinegar. Drizzle over asparagus, tossing well to coat.