How was your Thanksgiving? I hope it was amazing with good food and family and friends. This year's Thanksgiving feast was pretty much a success with no mishaps. In past years, we've had a dish or two that didn't quite cut the mustard (I like to make new dishes every year), but not this year. For the next couple of posts, I'll be recapping what we had on our table. I know you may be sick of Thanksgiving food, but these are great recipes to bookmark for Christmas or save for next year! Also, please excuse the pictures as they're all from my phone. I think my favorite dish this year was this Cornbread, Sausage, and Pecan Dressing. Two years ago, I made a similar Cornbread & Sausage Stuffing…but no pecans. Pecans make everything better in my book!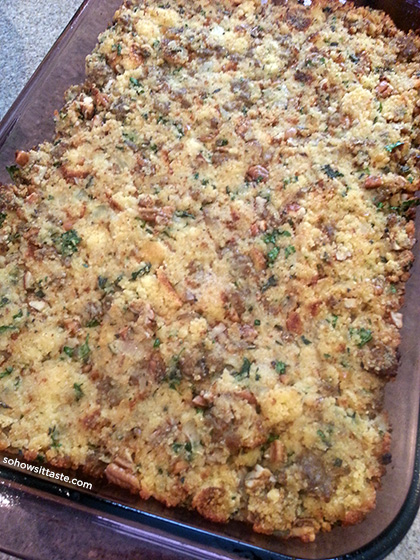 So, how's it taste?
I loved this stuff! I smothered it in cranberry sauce and it was heaven. It's just the right consistency with not being too dry and not being too wet. I left out the celery, but included it in the recipe below if you like the stuff. I loved the addition of the pecans. They stayed crunchy and added such wonderful flavor. I personally don't toast my pecans because I prefer the raw taste over toasted (and it saves a step). I really liked the fresh parsley, sage, rosemary, and thyme. Using fresh over dried really makes a difference. This recipe is pretty easy to make as well. As you cook each step, you dump the ingredients in a bowl and they just hang out until you're ready to stir. You can also bake this in advance and cut down on your Turkey Day cooking time.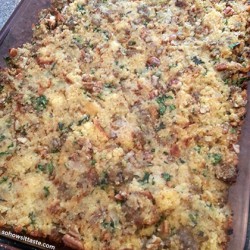 Yield: makes 8-10 servings
Cornbread, Sausage, and Pecan Dressing
Ingredients:
3/4 cup (1 1/2 sticks) unsalted butter plus more for baking dish
1 lb. day-old cornbread, broken into 1 1/2-inch–2-inch pieces (9 cups)
1 lb. breakfast sausage links, casings removed
2 1/2 cups chopped yellow onions
1 1/2 cups 1/4-inch slices celery
1/4 cup apple cider vinegar
3 cups low-sodium chicken broth, divided
1 1/4 cups chopped toasted pecans (optional)
1/2 cup chopped fresh parsley
2 tbsp. chopped fresh sage
1 tbsp. chopped fresh rosemary
1 tbsp. chopped fresh thyme
2 tsp. kosher salt
1 tsp. freshly ground black pepper
2 large eggs
Directions:
1. Arrange racks in upper and lower thirds of oven; preheat to 250°. Butter a 13x9x2-inch baking dish; set aside. Scatter cornbread in a single layer on 2 rimmed baking sheets. Bake, stirring often and rotating sheets halfway through, until dried out, about 1 hour. Let cool. Transfer to a very large mixing bowl.
2. Meanwhile, cook sausage in a large skillet over medium-high heat, breaking up into 1/2-inch–1-inch pieces with a wooden spoon, until browned, 8-10 minutes. Transfer to bowl with cornbread but do not stir.
3. Heat 3/4 cup butter in same skillet; add onions and celery and cook, stirring often, until softened and just beginning to brown, about 10 minutes. Add to cornbread in bowl.
4. Return skillet to heat. Add vinegar; cook, scraping up browned bits from bottom of pan, for 1 minute. Pour into bowl with cornbread. Gently fold in 1 1/2 cups broth, pecans, if using, parsley, sage, rosemary, and thyme. Add salt and pepper. Let cool.
5. Preheat oven to 350°. Whisk 1 1/2 cups broth and eggs in a small bowl. Fold gently into cornbread until thoroughly combined, taking care not to mash cornbread (mixture will look wet). Transfer to prepared dish, cover with foil, and bake until an instant-read thermometer inserted into the center of dressing registers 160°, about 40 minutes. DO AHEAD: Dressing can be made 1 day ahead. Uncover; let cool. Cover and chill.
6. Bake dressing, uncovered, until set and top is browned and crisp, 40-45 minutes longer (if chilled, add 10-15 minutes).