This past weekend, my friend Shannon from Bake.Frost.Repeat. came to visit and we certainly like to get in the kitchen and make delicious goodies. I'm hardcore into getting my steps in from walking, so I knew we needed a hearty breakfast before I made Shannon walk all over Vanderbilt's campus. I also wanted something quick so we could wake up, eat, and head out. This Mushroom, Bacon, and Swiss Strata was perfect! We cooked the ingredients and assembled the strata the night before, then kept it in the fridge overnight. It was really easy to let it bake while we were donning our walking gear.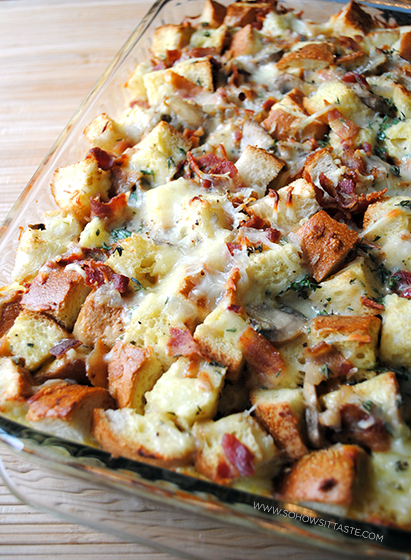 So, how's it taste?
I loved the flavor. Bread, eggs, bacon, mushrooms, and cheese! I subbed a reduced-fat Italian mix of cheeses because I couldn't find reduced-fat Swiss. The cubes of bread get really crunchy and toasty on top, but the bottom was a bit soggy for my liking. I think this could be resolved by cooking the strata at a higher temperature or longer. Despite that texture, it was spot on with flavor. We both discovered how incredibly well the thyme tasted with eggs! Great combo. Of course, everything is better with bacon. You could swap sausage for the bacon and add pretty much any veggie you'd like, too. It's a great recipe to play around with flavor variations.
This recipe comes from the Cooking Light Lighten Up, America!: Favorite American Foods Made Guilt-Free
cookbook. I can't say enough good things about this cookbook! I've been really focusing on getting my exercise in (hence the walking) and watching my calories. This entire book is figure-friendly and has nutrition information for every recipe, plus tons of pictures! I have almost bookmarked the entire book! I highly recommend this, even if you don't care about calorie counting. The awesome recipe for Cajun Shrimp & Grits also came from this book.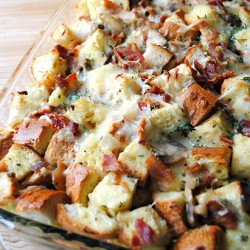 Mushroom, Bacon, and Swiss Strata
Ingredients:
12 oz. ciabatta, cut into 1-inch cubes (I used French bread)
2 tbsp. butter
2 cups chopped onion
2 (8 oz.) packages pre-sliced mushrooms (I used 12 oz. total)
Cooking spray
1 1/2 cups shredded reduced-fat Swiss cheese (I used reduced-fat Italian mix)
8 bacon slices, cooked & crumbled
3 cups 1% low-fat milk (I used almond milk)
1 1/2 cups egg substitute
2 tsp. chopped fresh thyme
1/2 tsp. freshly ground black pepper
1/4 tsp. salt
Directions:
1. Preheat oven to 350F. Arrange bread in a single layer on a jelly-roll pan. Bake for 20 minutes or until toasted. Place bread cubes in a large bowl.
2. Melt butter in a large nonstick skillet over medium-high heat. Add onion and mushrooms to pan; sauté 10 minutes or until liquid evaporates and vegetables are tender. Add onion mixture to bread; toss well to combine. Arrange half of bread mixture in a 9 x 13-inch baking dish coated with cooking spray. Sprinkle with half of cheese and half of bacon; top with remaining bread mixture, cheese, and bacon.
3. Combine milk and next 4 ingredients (through salt), stirring with a whisk. Pour milk mixture over bread mixture. Cover and refrigerate 8 hours.
4. Preheat oven to 350F. Remove strata from refrigerator; let stand at room temperature for 15 minutes. Bake strata, covered, for 30 minutes. Uncover and bake an additional 15 minutes or until set. Let stand 10 minutes before serving.
per serving: 313 calories, 10.4g fat, 21.7g protein, 35.5g carbs, 2.7g fiber
Source: Cooking Light Lighten Up, America!: Favorite American Foods Made Guilt-Free
This post contains affiliate links.