I chose the Turkey and Pancetta Meatballs and Pasta with Mint Pesto and Fava Beans as the main dish for my Spring Dinner Party because it's so easy, but very impressive. I made a small batch of the mint pesto to test because I was apprehensive about it overpowering the meal. I was happy it ended up being a subtle flavor, but a nice change from everyday pesto. Not only was I happy about it, but it pretty much knocked my socks off! I couldn't wait to serve it topped with homemade meatballs. It went over so well at the party, I'm making it again for Mother's Day this weekend!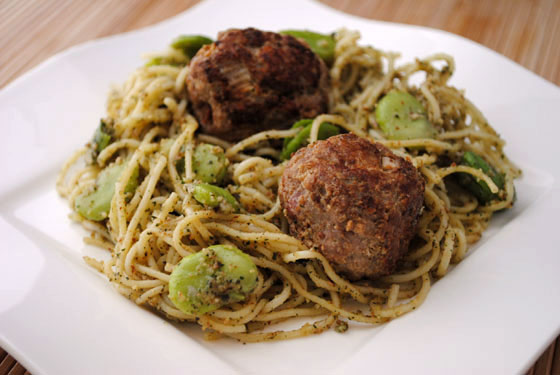 So, how's it taste?
It's obvious I loved the pesto. Don't be turned off by the mint, it's incredible and not very prominent. If you still don't want to try it, substitute basil. I've made this pesto a few more times since my dinner party. I can't get enough of it! It's a cinch to pulse the ingredients in your food processor and you've got this amazing sauce easy enough for a weeknight dinner or impressive enough for guests. Adding the reserved salted pasta water creates this thinned, creamy, decadent companion to angel hair. It's great even without the meatballs.
The meatballs are unbelievable. So incredibly savory and a great addition to the pesto pasta. I purchased my pancetta in tiny cubes and it made it a tad difficult to shape into balls. I recently made these again and pulsed the pancetta in my food processor and that worked a lot better for mixing. The added zing is what makes these meatballs extraordinary. Fry the meatballs in batches to not crowd your pan.
The fava beans were really hard to find, but I finally purchased them at an international market. They add a nice touch of green and are so buttery. If you can't find them, substitute edamame, frozen grean peas, or leave them out.
Dinner party tip: Make the meatballs and the pesto the night before. The pesto retains its color without topping it with more olive oil as the cookbook suggests. The meatballs are fried and that can be messy to clean up, so you'll be happier to have that done. They'll also make your house smell of fried meat, which although it's good, you don't want your house to smell like that for guests. Before my guests arrived, I put a pot of water on the stove and and as we were nearing the end of our salads, I turned on the heat for the water to boil. I also put the meatballs on a cookie sheet in a 180F oven and let them slowly heat up. Save your pasta water to thin the pesto, drain the pasta, toss with pesto and fava, and top with the meatballs. All you've done for dinner is boil water!
Spring Dinner Party Menu:
Spring Salad with Fresh Mozzarella and House Dressing
Bread Machine Dinner Rolls
Turkey and Pancetta Meatballs
Pasta with Mint Pesto and Fava Beans
Tiramisu Ice Cream
Wine of your choice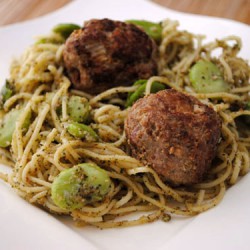 Turkey Pancetta Meatballs over Pasta with Mint Pesto & Fava Beans
Ingredients:
Meatballs
1 lb. ground turkey, preferably 7 percent fat (also works well with beef)
1 oz. thinly sliced pancetta, finely chopped (1/4 cup) (if you find it in cubes, pulse in a food processor for easy mixing)
1/2 onion, finely chopped (about 3/4 cup)
1 garlic clove, minced
3/4 cup fresh fine breadcrumbs
Coarse salt and freshly ground pepper
1 large whole egg
1 egg yolk
1 tbsp. finely chopped fresh sage (or 1/2 tbsp. dried sage)
1 tsp. finely grated lemon zest
Olive oil, for frying
Pasta
Coarse salt and freshly ground pepper
1 cup shelled fresh fava beans (about 1/2 pound in a pod)
1/2 cup roasted unsalted almonds (about 2 oz.)
1 small garlic clove, minced
1/2 cup finely grated pecorino cheese (about 2 ounces), plus more for sprinkling
1/4 cup plus 3 tablespoons extra-virgin olive oil, plus more for topping
2 1/2 cups loosely packed fresh mint leaves, plus more for garnish
16 ounces angel hair pasta (capellini)
Directions:
1. For the meatballs, gently mix turkey, pancetta, onion, garlic, and breadcrumbs in a large bowl; season with 1 teaspoon salt and a pinch of pepper. Stir in the egg and yolk, sage, and zest. Form mixture into 1-inch meatballs.
2. Heat 1 to 2 tablespoons oil in a large heavy skillet over medium-high heat until hot but not smoking. Cook the meatballs in a single layer (work in two batches, if necessary), turning as needed, until browned on all sides and cooked through, about 7 minutes. Transfer to a plate and tent with parchment paper, then foil, to keep warm.
3. For the pasta, bring a small pot of water to a boil; add 1 tablespoon salt. Blanch fava beans until bright green and tender when pinched, about 2 minutes. Transfer beans with a slotted spoon to a colander and run under cold water to stop the cooking. When cool, peel off the tough outer skins, squeezing the beans from the skins (discard skins).
4. Pulse almonds with garlic in a food processor until coarsely ground. Add cheese and the oil; process to a coarse paste. Add mint, and pulse a few times until coarsely chopped. Season with salt and pepper. Transfer to a small bowl, and top with a thin layer to preserve the color. (I didn't top mine with the oil and the color stayed green for at least two days.)
5. Bring a large pot of water to a boil; add 2 tablespoons salt. Cook pasta until al dente according to package instructions; reserve 1/2 cup cooking water, then drain pasta. In a warmed serving bowl, mix pesto with enough reserved cooking water to form a thin sauce. Add the water gradually until your desired thickness. Add pasta and fava beans, and toss well to combine.
6. To serve, divide pasta among six dishes, and top with meatballs; garnish with mint, and sprinkle with more cheese.