I was such a ball of nerves making this recipe. Which is kind of ridiculous since I find cooking so therapeutic. I've been burned before with a pumpkin mac & cheese recipe, so I feared this Sweet Potato Chile Mac dish might lead me down the same path. I'm happy to report it was love at first bite. More like love at first smell. Such an unexpected twist of flavors on mac & cheese that really work together.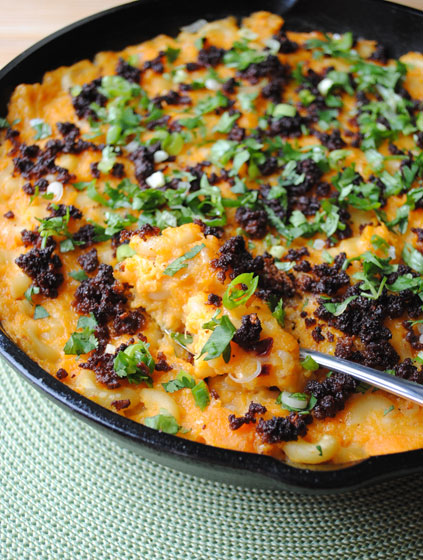 So, how's it taste?
It's so beautifully simple, yet layers and layers of flavor. Surprisingly, it's not all that cheesy, but the creamy texture of the sweet potatoes fools you into thinking it has more cheese. It's still ooey and gooey with a hint of Monterey Jack. The sweet potatoes naturally make it slightly sweet, but it's countered with smokey chipotles and chorizo. I used a tablespoon of chipotle and it had a good bit of spice kick to it. So use less or more depending on your heat level preference. The chorizo on top is genius. It's only three ounces crumbled, but it packs some major flavor. The directions instruct you to use a tablespoon of oil to cook the chorizo, but I think you could use a lot less or none. It was a bit on the greasy side with that much oil.
As the almost finished product sat under the broiler, I was really giddy. That's when it became love at first smell. The chorizo got a bit more crispy and the sweet and spicy smell became intoxicating.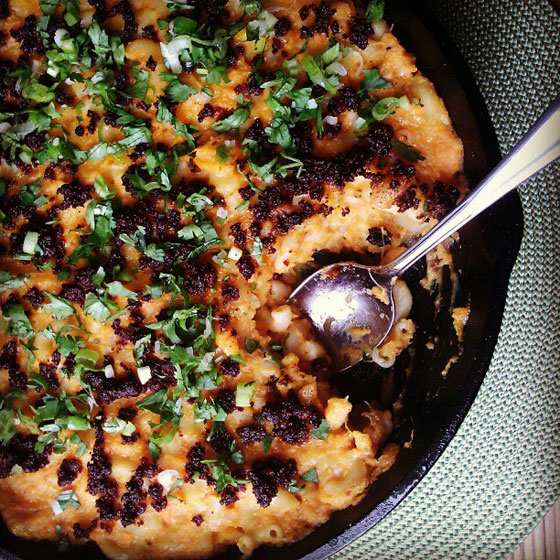 What really made this dish a standout is the final touch of cilantro and green onion. As I was chopping and mixing them together, I thought "they should make a cilantro and green onion candle." Then I came to my senses and realized an onion candle would have zero sales. Well, except for me, because I never realized the awesomeness of those two garnishes together. Spicy, sweet, smokey, creamy, vibrant…this won't be last time I make this version of mac & cheese!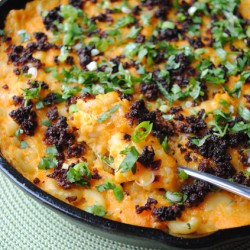 Sweet Potato Chile Mac
Ingredients:
3 medium sweet potatoes (about 2 pounds)
1 cup fat-free milk
1 1/2 to 2 tbsp. chopped chipotle chile, canned in adobo sauce
3/8 tsp. kosher salt
1/4 tsp. freshly ground black pepper
3 oz. Monterey Jack cheese, shredded (about 3/4 cup packed)
8 oz. uncooked whole-wheat macaroni or penne pasta
1 tbsp. olive oil
6 oz. fresh Mexican chorizo, casings removed
1/4 cup chopped green onions
2 tbsp. chopped fresh cilantro
Directions:
1. Preheat oven to 425F.
2. Pierce potatoes several times with a fork; place on a foil-lined baking sheet. Bake at 425F for 1 hour or until tender. Cool slightly; peel and mash in a large bowl. Stir in milk and next 4 ingredients (through cheese).
3. Cook pasta according to package directions, omitting salt and fat; drain. Add pasta to sweet potato mixture; set aside.
4. Preheat broiler to high.
5. Heat a large ovenproof skillet over medium heat. Add oil; swirl to coat. Add chorizo to pan; cook 4 minutes or until browned, stirring to crumble. Place chorizo in a small bowl. Wipe pan clean. Spoon sweet potato mixture into pan; sprinkle evenly with chorizo. Broil 2 minutes or until lightly browned and crisp. Sprinkle with onions and cilantro.