I can't believe this recipe is my first time cooking with leeks. I've had them before in restaurants, but never really gave them a thought for home until I found a recipe for leek quiche, which I turned into Ham & Leek Quiche. I'm happy to report it turned out really well, and most people may hate cleaning leeks, but I had fun with it. It was almost like being in Honey, I Shrunk the Kids and handling giant green onions, ha ha!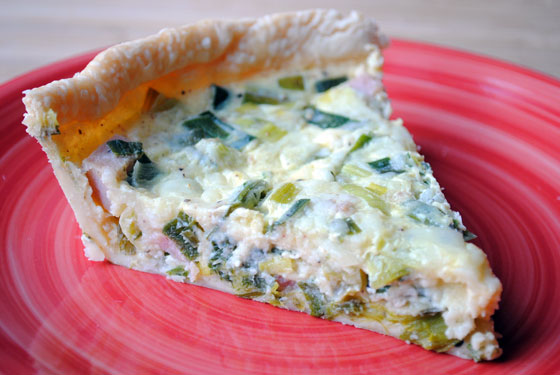 So, how's it taste?
I was a little worried that the quiche would be a big leek fest and I'd come away with some serious onion breath. Four cups of uncooked leeks is a huge amount. Luckily, they cook down beautifully and they aren't as strong as some of their oniony cousins. The leeks soak up the butter and become really tender. The perfect vegetable for a delicate quiche. I added ham simply because I have a ton of it frozen and I thought the flavors would go well together. I only added a 1/2 cup of ham because I didn't want to overflow my quiche or take away from the leeks. You could probably add up to a cup, if you wanted. This quiche would also be fantastic without the ham. Simply leave it out if you want a leek quiche.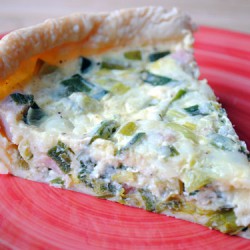 Ham & Leek Quiche
Ingredients:
2 medium leeks
1 refrigerated pie crust, softened as directed on box
2 tbsp. butter
3/4 cup fat-free egg substitute
1 cup skim milk
1 1/4 cup shredded Swiss cheese
1/2 tsp. salt
1/4 tsp. ground pepper
1/8 tsp. ground nutmeg
1/2 cup cooked ham, chopped
Directions:
1. Heat oven to 400F. Wash leeks; remove any tough outer leaves. Trim roots from white bulb portion; cut leeks lengthwise and wash well. Cut crosswise into 1/2-inch-thick slices to make about 4 cups; set aside.
2. Place pie crust in 9-inch glass pie pan as directed on box. Partially bake crust 8 minutes or until very lightly browned.
3. Meanwhile, in 12-inch skillet, melt butter over medium heat. Add leeks; cook 7 to 9 minutes, stirring frequently, until tender but not brown. Remove from heat; set aside.
4. In small bowl, whisk eggs, milk, cheese, salt, pepper, and nutmeg until blended. Add cooked leeks and ham. Pour mixture into partially baked crust.
5. Bake quiche 10 minutes. Cover crust edges with strips of foil to prevent excessive browning. Reduce oven to 300F, bake 20 to 25 minutes longer or until knife inserted in center comes out clean. Cool 15 minutes before serving.