I have been making this recipe for Layered Chicken Black Bean Enchiladas for years. Ten years to be exact. I started making this back in graduate school (seriously, that was 10 years ago, my how time flies!) and it's become a favorite in my house ever since. I recently made this for my friend Carol, who just moved to Nashville, and she liked it so much she exclaimed it was what we should eat every Tuesday night. Now that's a good dish!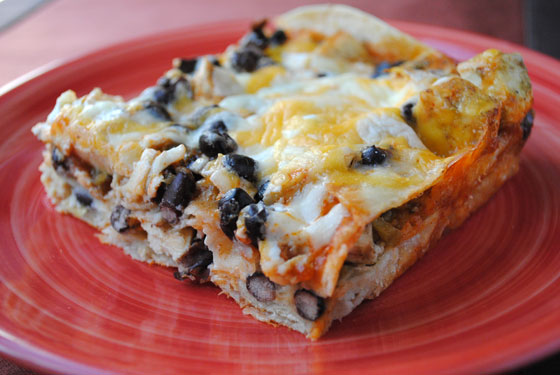 So, how's it taste?
Fantastic! It's interesting how much flavor is in this casserole considering there's no spices added. The combination of the enchilada sauce, gooey cheese, and sour cream mixed with the tender chicken and black beans is just phenomenal. It's some serious southwest taste. I use a few more tortillas because I like to cover the layers completely. I've never added the cilantro because I don't care for it, and it works great without it. Serve this dish the next time you're having friends over and they'll be talking about it the rest of the night!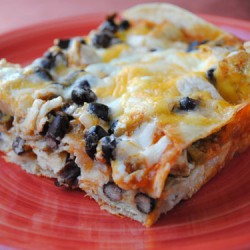 Layered Chicken Black Bean Enchiladas
Ingredients:
2 cups chopped cooked chicken
2 tbsp. chopped fresh cilantro
1 (15-oz.) can black beans, drained, rinsed
1 (4.5-oz.) can chopped green chiles
1 (10-oz.) can enchilada sauce
8 (6-inch) corn tortillas
6 oz. (1 1/2 cups) shredded colby-Monterey Jack cheese
1 (8-oz.) container sour cream
Directions:
1. Heat oven to 375°F. Spray 12x8-inch (2-quart) glass baking dish with nonstick cooking spray. In medium bowl, combine chicken, cilantro, black beans, and chiles; mix well.
2. Spoon 2 tablespoons of the enchilada sauce in bottom of sprayed baking dish. Place 4 tortillas over enchilada sauce, overlapping as necessary. Spoon half of chicken mixture over tortillas; sprinkle with 1/2 cup cheese. Spoon half of remaining enchilada sauce and half of the sour cream randomly over cheese. Repeat layers. Cover with foil.
3. Bake at 375°F. for 30 to 35 minutes or until thoroughly heated. Uncover; sprinkle remaining 1/2 cup cheese over casserole. Bake, uncovered, an additional 5 minutes or until cheese is melted. Let stand 10 minutes before serving.