I love this time of year. Cooler weather, windows open all day, and fall cooking is the only kind of food I want. Last weekend I sat in my living room, surrounded myself with all my fall weather cookbooks and made a list of the yummy, comforting meals I wanted to tackle. Forgetting that all of the meals I picked out were slow cooker recipes, I started making my grocery list. Luckily I realized that shopping for a slow cooker meal at 4 p.m. was not going to put dinner on the table in time. I grabbed another cookbook, flipped through the pages and stopped when I found this Moroccan Sweet Potato Stew. So quick and easy to put together and filled with fall flavors I'd never tried. I was up for it!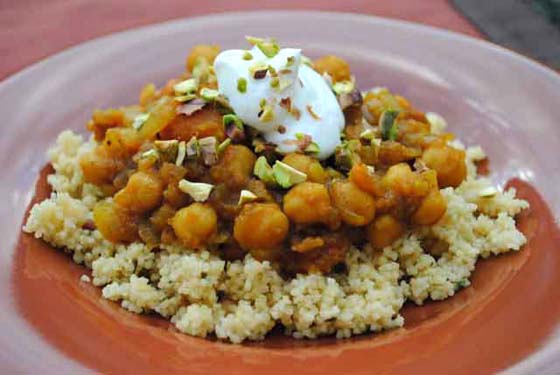 So, how's it taste?
It knocked my socks off! I was nervous that it wouldn't turn out decent because of all the sweet flavors in the dish, but wow! It's got honey, dates, and sweet potatoes in syrup. I thought for sure it would be overboard in the sugary department. Absolutely not! It's balanced by the onion, vegetable broth, and that beautiful turmeric. I don't think I've ever had turmeric before. It's very earthy and brings a nice color to the dish. Watch out though, it stained my fingers yellow! You can serve this stew over rice or couscous, but I highly recommend the couscous. Rice is just too boring. I chose a flavored couscous, the Toasted Pine Nut from Near East. It went so well with the sweet and earthy stew. Such a great combination with the savory couscous. I topped it off with a dollop of Greek yogurt and chopped pistachios to add some creaminess and crunch. I looked forward to these leftovers and never got sick of eating it. This will be a staple meal in my house from now on.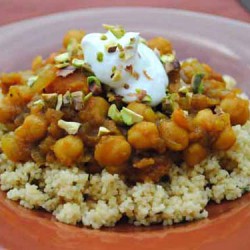 Moroccan Sweet Potato Stew
Ingredients:
2 tsp. olive oil
1 med. onion, chopped
1-15oz. can garbanzo beans, drained, rinsed
1-15oz. can cut sweet potatoes in syrup, drained
1/2 cup coarsely chopped dates
1/2 tsp. turmeric
1/4 tsp. cinnamon
1 cup vegetable broth
1 tbsp. honey
2 tbsp. chopped shelled pistachios, if desired
Greek yogurt, if desired
*serve over couscous or rice, if desired
Directions:
1. Heat oil in medium saucepan over medium heat until hot. Add onion. Cook 3-5 minutes or until tender, stirring frequently.
2. Add all remaining ingredients except pistachios; mix well. Bring to a boil. Reduce heat; simmer 10 minutes, stirring occasionally. Sprinkle each serving with pistachios and a dollop of Greek yogurt. Serve over couscous or rice.