Oh I love  a good low calorie pasta dish! Right under desserts, pasta is a weakness of mine. Especially pastas covered in a creamy, thick sauce. So speaking of, Roasted Chicken Florentine Pasta made my list. Fettuccine, spinach, and roasted chicken enveloped in a cheesy, creamy sauce.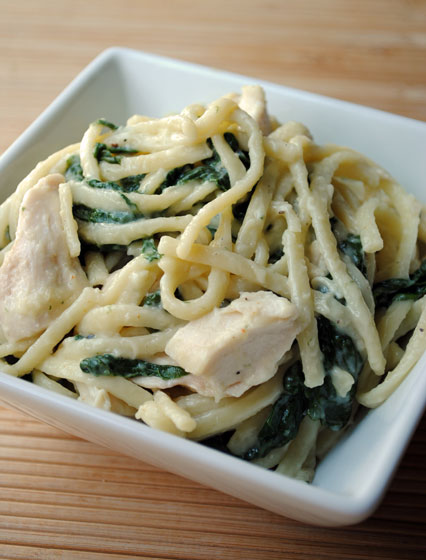 So, how's it taste?
I'm half and half on this one. I liked it and I didn't like it. Yeah, that's weird, right? Creamy sauce over noodles. Check. Spinach. That's tasty, so check. Cheese. Check. Tender, juicy, roast chicken. Check. So why didn't I love it? Don't get me wrong, it's good. Really good for all that yumminess in a low calorie meal. And the serving size is huge. This whole recipe serves four and I have yet to finish a single serving in one sitting. With all that said, I found myself sick of it after eating it once. Usually if I enjoy a meal, I look forward to the leftovers. I slurped it up the first time and really liked it, although I found the finished product needed more salt and bit more oomph. I wish I had added some cayenne to pep it up. Subsequent leftovers left me happy that it only made four servings, even though I actually have more since it's so much food. When I make this again, I think I'll use a rotisserie chicken instead of roasting it myself. My roasted chicken was nothing to shake a stick at, but a rotisserie would take this pasta to the "I can't wait for the leftovers" level. Or perhaps on my next roast chicken, I'll really get into adding more spices and herbs. We'll see.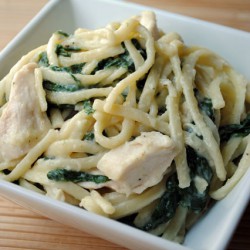 Roasted Chicken Florentine Pasta
adapted from Cooking Light
makes 4 servings
per serving: 332 calories, 10.3g fat, 35g carbs, 2g fiber, 24.8g protein
Ingredients:
2 (6 oz.) bone-in chicken breasts with skin
3/4 tsp. seasoning salt, divided
3/4 tsp. garlic pepper blend, divided
Cooking spray
8 oz. uncooked linguine
2 tbsp. canola oil
3 tbsp. all-purpose flour
1 tsp. chopped fresh garlic
1 cup whole milk (I used skim)
1 cup fat-free chicken broth
3 oz. Parmesan cheese, grated (about 3/4 cup)
6 oz. bag fresh spinach leaves
Directions:
1. Preheat oven to 375F.
2. Sprinkle chicken with 1/4 teaspoon seasoning salt and 1/4 teaspoon garlic pepper blend. Be sure to get some seasonings under the skin, too. Place chicken on a baking sheet coated with cooking spray, and roast for 50 to 60 minutes, turning once. Let stand 10 minutes. Carve chicken off bones, and thinly slice, cut into chunks or shred.
3. Cook the pasta according to package directions. Drain well; keep warm.
4. Heat a large nonstick skillet over medium-high heat. Add oil to pan; swirl to coat. Add flour and garlic; cook until garlic is browned (about 2 minutes), stirring constantly. Add milk and broth, stirring with a whisk; bring to a simmer, and cook 2 minutes or until thickened. Add cheese, stirring until cheese melts. Add remaining 1/2 teaspoon seasoning salt, remaining 1/2 teaspoon garlic pepper blend, and spinach; stir until spinach wilts. Add pasta and chicken; toss to combine.