I'm always on the lookout this time of year for soups or stews, and it's a huge bonus when they're easy to make and low calorie. I have a habit of adding on a few extra pounds after the holidays, so I want food that not only will help me get back on track, but it has to taste good. This time of year is perfect for soups. I instantly bookmarked Coconut Fish Chowder when I found it. Savory soup with rice and big chunks of fresh fish, plus anything with coconut gets my vote!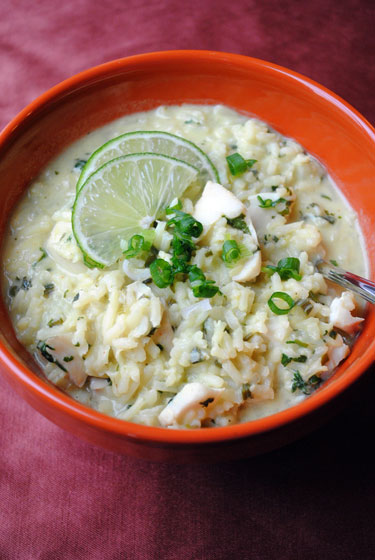 So, how's it taste?
I enjoyed the flavors in this soup, but as you can see from the picture, it was more like fish and rice. My soup didn't have much liquid left to it after all was said and done. It had a mouth-watering aroma from the coconut, but the coconut wasn't as strong in taste. I would have liked a bit more. I used regular coconut milk because I couldn't find the lighter version. I expected this soup to have very strong flavors, but it really doesn't. It's good, but it's light on flavor, which actually works because it's so hearty and filling, but not heavy or rich.
The best thing about this soup is how fast it comes together. A little chopping, heat the ingredients, and in no time you've got dinner on the table. I used haddock in my version, but any firm white fish will work. The contrast in textures from the bit of broth, chunks of tender fish, and rice was nice. The fresh lime juice brings it all together. I left out the bell peppers, but if you like them, give them a try in this soup! Soups can often be a bit boring and leave you wanting more, but not this one. The leftovers will keep for a few days in the refrigerator, but since it's fish, I wouldn't eat the leftovers past day two.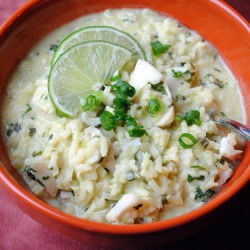 Coconut Fish Chowder
Ingredients:
1 cup uncooked instant rice
1/2 cup thinly sliced green onions
1 medium bell pepper, coarsely chopped
1 garlic clove, minced
1 (14.5 oz.) can chicken broth
1 (14 oz.) can lite coconut milk
1 tbsp. lime juice
1/2 tsp. salt
1/8 tsp. cayenne
1/8 tsp. turmeric
1 lb. orange roughy or haddock fillets, cut into 1-inch pieces
1/4 cup chopped fresh cilantro
Directions:
1. In a large saucepan, combine all ingredients through turmeric. Bring to a boil.
2. Add fish. Reduce heat; simmer 5 to 8 minutes or until fish flakes easily with fork, stirring occasionally. Stir in cilantro.