I've gone a little burger crazy this summer, but that's what grills are for, right? Ever since Bobby Flay schooled me in how great a burger can taste, I've been slowly eating my way through his burger cookbook. I had no idea there were so many ways to top a burger. There's nothing wrong with the standards, but I consider myself a condiment junkie, so I'm always up for new flavors on my burger. The fresh herbs and gooey cheese are what attracted me to the Argentinean Burger. Topped with homemade chimichurri and Manchego, I couldn't wait to get this burger on the grill.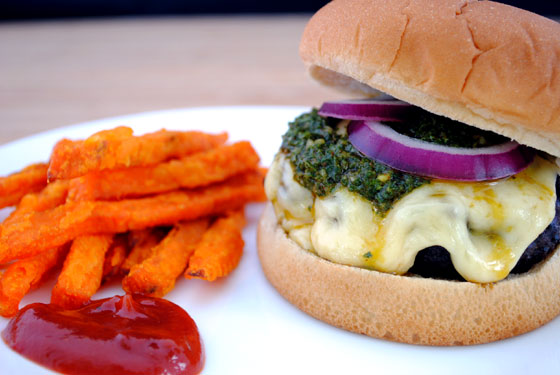 So, how's it taste?
Three simple toppings and I was in love. The chimichurri brings so much to the table with its punch of garlic, tang of vinegar, and fresh herbs. I find that fresh parsley is a big enhancement to many dishes. The Manchego melts beautifully and has a very mild flavor so it lets the chimichurri shine. The red onions give a pop of beautiful purple and a nice spicy bite. I was fully expecting to be bored with this burger because I thought three toppings just wouldn't satisfy me, but I was completely wrong! The chimichurri makes a lot, so you could either halve the recipe for these four burgers or use the extra in other dishes. I found it's fantastic on grilled chicken as well!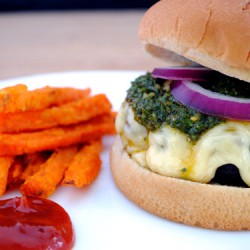 Argentinean Burger
Ingredients:
Chimichurri
2 cups packed fresh flat-leaf parsley
1 tbsp. fresh oregano
4 cloves garlic
1 tsp. smoked sweet Spanish paprika
3 tbsp. red wine vinegar
1/2 cup extra-virgin olive oil
Kosher salt & freshly ground black pepper
Burgers
1 1/2 lbs. ground chuck
Kosher salt & freshly ground black pepper
1 1/2 tbsp. canola oil
4 slices Manchego cheese
4 hamburger buns, split, toasted
1/2 red onion, sliced 1/4-inch thick
Directions:
1. For the chimichurri, combine the parsley, oregano, and garlic in a food processor. Pulse until coarsely chopped. Add the paprika, vinegar, oil, and salt & pepper to taste. Process until smooth. Transfer to a bowl. The sauce can be made 8 hours in advance, tightly covered, and refrigerated. Bring to room temperature before serving.
2. For the burgers, divide the meat into 4 equal portions. Form each loosely into a burger and make a deep depression in the center with your thumb. Season both sides of each burger with salt & pepper.
3. Cook burgers in a skillet with the oil or if grilling, brush both sides of the burger with the oil. Cook to your desired degree of doneness. Top each burger with a slice of cheese during the last minute of cooking.
4. Place burgers on bun bottoms and top with a large dollop of chimichurri and a few slices of onion. Cover with bun tops and serve immediately.