I'm desperately trying to get back on a healthy, low calorie meal plan (I refuse to say diet), but it's hard. Food is so, so, so good! I tried eating salads for lunch at work for a week and got terribly bored. I'd end up eating something not so good for me because I hated my lunch. Why am I doing this? I know how to make good food that won't blow up my calorie bank! Instead of turning eating into an unpleasant experience, it's time to get back to what I know. Healthy, low calorie food doesn't have to taste bad or be boring. I've got an entire category devoted to Low Calorie, including desserts! So let's build on that, shall we!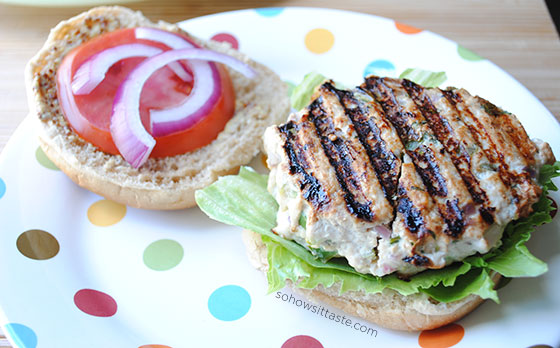 I love burgers. All makes and models, all kinds of toppings. They can be a real gut buster though. No need to deny yourself one. Make it healthy and delicious. These Garden Turkey Burgers really surprised me. They were so full of unique flavors that I didn't even use cheese. I didn't want to mask the flavor of my seasonings and those veggies!
So, how's it taste?
I really was expecting just your average turkey burger. Who wants to get excited about eating low calorie if it's just another tasteless sub for beef? I give you permission to get excited now! First, the burger is huge. You won't starve eating this for dinner. I love the color of the green bell pepper mixed with the purple from the onion. I've recently come to love bell peppers and they are fantastic tucked inside this burger. There's also watercress, which packs some serious health goodness.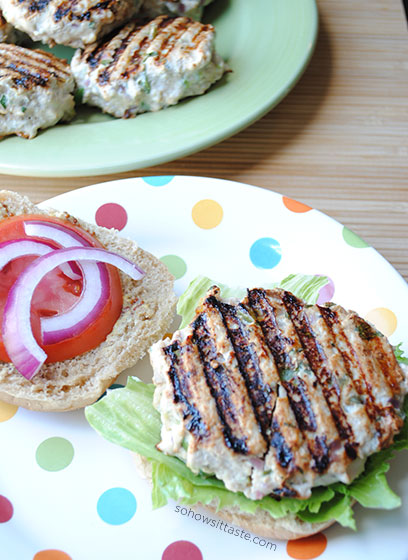 Now we all know turkey is kind of plain on its own and needs a little nudge in the flavor department. The trick here is not only the veggies, but just a bit of teriyaki sauce and jerk seasoning. It really livens up each bite. I could smell the teriyaki as the burgers were grilling and it was fantastic. You can add more jerk seasoning to amp up the heat value, too. It's a little sweet and a little spicy. To build my burger, I used low-fat mayo, whole grain garlic mustard, lettuce, tomato, and more red onion. No cheese needed here! See you can eat low calorie and have your burger, too!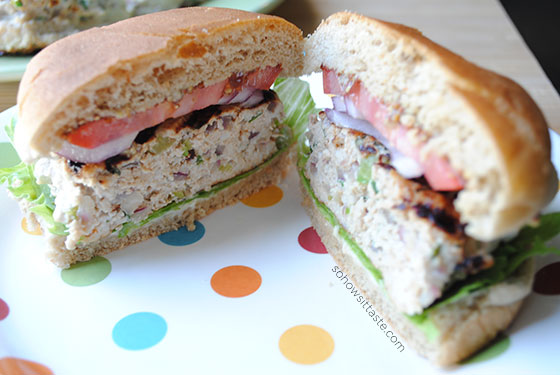 This recipe comes from The Juan-Carlos Cruz Calorie Countdown Cookbook
. I bought this book several years ago because it has meal plans according to what calorie level you're eating. I'm a sucker for meal plans. Once you get down to it though, the recipes aren't of that much interest to me. He's got a winner in the Chilaquiles, which I posted back in 2010 and have made a bajillion times. I found it hard to find another recipe that I really wanted to make until I saw the turkey burgers. I think this cookbook has been on my shelf for long enough and it's time for someone else to enjoy it. See, this cooking from every cookbook I own is paying off already!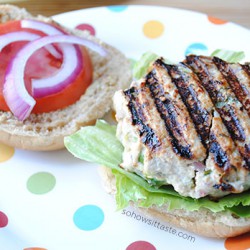 Garden Turkey Burgers
Ingredients:
1 lb. lean ground turkey breast
1 cup finely chopped red onion
1/2 cup finely chopped bell pepper
1 large egg white
1/4 cup chopped watercress leaves
3 tbsp. teriyaki sauce
1 to 2 tsp. jerk seasoning
salt
freshly ground black pepper
cooking spray
6 whole-wheat buns
1/4 cup low-fat mayonnaise
1 large tomato, sliced
other toppings, optional
Directions:
1. In a large bowl, combine the turkey, red onion, bell pepper, egg white, watercress, teriyaki sauce, jerk seasoning, salt, and pepper. Stir until well blended, but don't over mix. Form into 6 equal patties.
2. Heat a nonstick griddle/grill or skillet or medium-high heat and spray lightly with cooking spray. Place each patty on the grill, in batches if necessary, and cook for 3 to 5 minutes on each side, until burgers are no longer pink in the center.
3. Remove burgers from heat. Spread the bottom half of each bun with mayonnaise and place burger on top. Top the burger with a slice of tomato and the remaining bun.
per serving: 315 calories, 10g fat, 35g carbs, 7g fiber
Source: The Juan-Carlos Cruz Calorie Countdown Cookbook
This post contains affiliate links.