I bookmarked this recipe to make without fully reading its ingredients. To me, carbonara means bacon. I'm not sure if that's right or if it means eggs and bacon or maybe just eggs. So one of you smarties chime in and let me know. This Tomato & Asparagus Carbonara doesn't involve bacon. Which was a bit of a disappointment, but I am a fan of sauces made from eggs. It makes sauces creamy and smooth and delicious.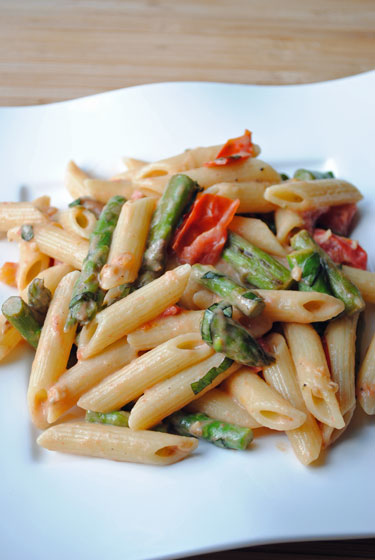 So, how's it taste?
Well…to be honest it was kind of plain. I love pasta, love asparagus, love tomatoes, so I'm not sure what this dish is missing. There's just not a lot to it. The egg does make a creamy sauce, but it's very light. I could live with that if it had more pizzazz. It would be a great dish if you feel like you've had a lot of heavy meals and just need a meatless dish to feel back to normal. Maybe adding more yummy veggies like squash or zucchini would help. While I love tomatoes, I hate tomato skins. It bugs me when fresh tomatoes are cooked and the inside kind of disappears and all that's left are those little tomato skins. That's what happened to this dish. I'd suggest following the directions using only half of the cherry tomatoes and tossing in the rest at the end. I think the tomatoes cook a bit too long for my liking and I was left with mostly tomato skins. I wanted those big, juicy tomatoes and that wasn't the result. Not a bad dish and it is low in calories, but I want my calories to count in the taste department. This one needs a bit more work.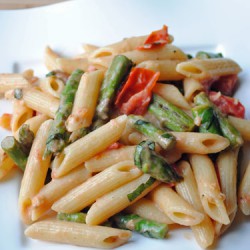 Tomato & Asparagus Carbonara
Ingredients:
3 qts. water
1 tbsp. extra-virgin olive oil
1 lb. (1-inch) diagonally cut trimmed asparagus
3 garlic cloves, minced
1 pint cherry tomatoes, halved
2 oz. pecorino Romano cheese, finely grated (about 1/2 cup) (I used Asiago)
1/2 tsp. kosher salt
1/2 tsp. freshly ground black pepper
1 large egg
8 oz. uncooked penne pasta
1/4 cup fresh basil leaves, julienned
Directions:
1. Bring 3 quarts water to a boil in a Dutch oven.
2. Heat a large nonstick skillet over medium-high heat. Add oil to pan; swirl to coat. Add asparagus; sauté 3 1/2 minutes. Add garlic; sauté for 1 minute. Add tomatoes; cook for 6 minutes or until tomatoes are tender.
3. Combine cheese, salt, pepper, and egg in a large bowl, stirring with a whisk.
4. Add pasta to boiling water; cook 10 minutes or until al dente. Drain and toss pasta immediately with egg mixture. Add tomato mixture, tossing until sauce thickens. Divide pasta equally among 4 bowls. Sprinkle each serving with 1 tablespoon basil. Serve immediately.