I've been doing so well on slimming down and it's thanks to meals like these Lamb & Bulgur Burgers. (It also helps that I'm a regular at the gym!) I'm on a mission to find foods that I really enjoy eating, whether I'm trying to shed a few pounds or not. It's a true test of how well a recipe turns out if I'm sad when the leftovers are gone and look forward to making the dish again. That's exactly what happened with these burgers.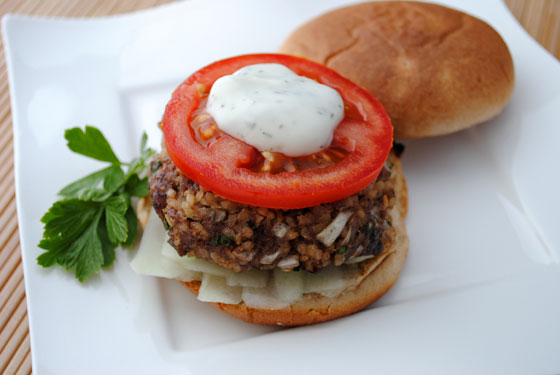 So, how's it taste?
I was apprehensive that I wouldn't be a fan of a lamb burger. I've had lamb numerous times, but never cooked it at home. If you're not a fan of lamb, try these burgers with lean ground beef or turkey instead. There's so much flavor in these burgers with the lamb, onion, spices, and herbs. It reminds me of a gyro in burger form. The fresh slices of tomatoes and ribbons of cucumber add a freshness that compliments the burgers. The simple dill yogurt sauce is light and delicious without overpowering. The bulgur also helps in filling me up so I didn't need a side and wasn't looking for a snack soon after. If you like gyros, you'll love this lower-calorie burger version. I think using a low-fat yogurt instead of a fat-free yogurt would pump up the sauce flavor just a tad. These burgers freeze very well.
This is definitely a meal that's passed my would-I-eat-this-when-I'm-not-dieting test with a huge yes!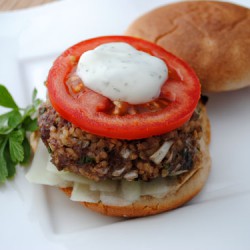 Lamb & Bulgur Burgers
New Dieter's Cookbook
makes 8 servings
per serving: 249 calories, 8g fat, 20g protein, 25g carbs, 5g fiber
Ingredients:
1 - 6 oz. carton plain fat-free yogurt
2 tsp. fresh dill or 1/2 tsp. dried dill
3/4 cup water
1/2 cup bulgur
1/2 tsp. salt
1/4 cup finely chopped onion
3 tbsp. fresh parsley
1 tsp. ground coriander
1 tsp. fresh thyme or 1/4 tsp. dried thyme
1/8 tsp. black pepper
2 cloves garlic, minced
1 lb. lean ground lamb
1/2 of a medium cucumber, cut lengthwise into thin ribbons
8 hamburger buns, split and toasted (I use Healthy Life to keep the calories low)
tomato slices
Directions:
1. For the sauce, in a small bowl combine the yogurt and dill. Cover and refrigerate until serving time.
2. In a small saucepan bring the water to a boil. Stir in the bulgur and 1/4 teaspoon of the salt. Reduce heat to low. Cook, covered, for 10 minutes. Remove from the heat. Let stand, covered, for 5 minutes.
3. Meanwhile, preheat the oven to 350F. In a large bowl combine the onion, parsley, coriander, thyme, pepper, garlic, and the remaining 1/4 teaspoon salt. Stir in cooked bulgur and lamb; mix well. Shape into eight patties. Place in a shallow baking pan. Bake in the oven for 20 to 25 minutes or until internal temperature registers 160F on an instant-read thermometer.
4. To serve, arrange the cucumber ribbons on roll bottoms. Add burgers, tomato slices, a dollop of sauce, and roll bottoms.