This is not your everyday powdered cheese and noodles in a box. This is what I call macaroni and cheese and it's come a long way! The cheesy goodness of Southwest Cheese 'n Pasta. There's no question why this recipe caught my eye. It's cheese for one! And I like anything easy to cook and food with a twist. I would have never thought to put corn into mac and cheese, but it really works!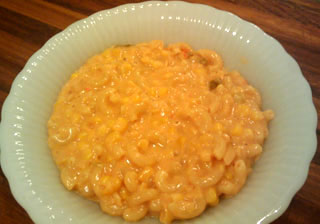 So, how's it taste?
I mean look at it. It's so cheesy. I loved this dish. Sometimes macaroni can get boring, but with the southwest flavors and the corn, this was a hit. It was surprisingly filling, too. The cheese is Velveeta and it just melts so deliciously. The recipe also calls for a can of cream-style corn and a can of mexicorn. The cream-style does add a bit of sweetness to it, but IÂ got used to it and ended up really liking it. I used the 2% Velveeta to cut down on calories. Overall, a serving of this dish is 405 calories. Not bad for something with so much cheese. I also found that Velveeta comes in a pepperjack flavor. That would have been really nice with this pasta. I'd like to try making this recipe with that flavor next time. The recipe calls for green salsa, which I couldn't find, so I used regular salsa. Tasted great! This meal is so easy, I will make it again.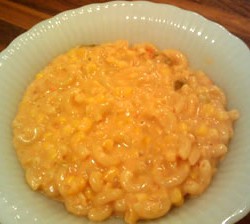 Southwest Cheese 'n Pasta
Ingredients:
1 1/2 cups milk
1 cup green salsa (salsa verde)
1 can (15 ounces) cream-style corn
1 can (11 ounces) whole kernel corn with red and green peppers, drained
8 ounces uncooked cavatappi pasta or elbow macaroni
8 ounces process cheese product loaf, cubed
Directions:
1. Mix all ingredients except cheese in 12-inch nonstick skillet. Heat to boiling, stirring occasionally; reduce heat to low. Cover and cook 10 to 14 minutes, stirring frequently, until pasta is tender.
2. Add cheese; stir until melted.