Before this Italian Zucchini Crescent Pie, I was a zucchini hater. Loved squash, but absolutely would not eat zucchini. I have no idea what made me buy zucchini for this pie instead of my beloved squash. I think I thought the green would be so much prettier and maybe I'd give zucchini another chance. Full disclosure, my only experience with it was the nasty pieces in those popular diet frozen entrees. Not exactly the best representation of any vegetable. I'm glad I gave it another try.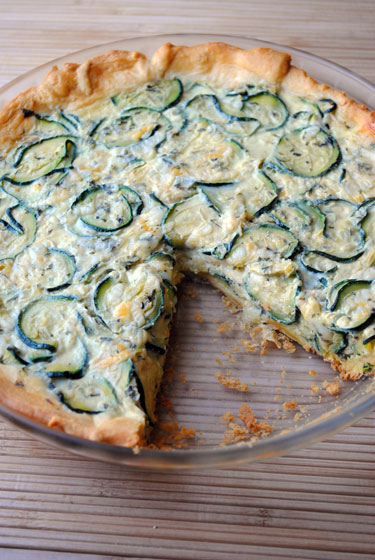 So, how's it taste?
Well, I've happily welcomed zucchini into my life with open arms and this pie started it all. It's creamy and gooey from the cheese and eggs, but with a slight crunch from the zucchini. The crust is delicious, as I'm a fan of crescent rolls. I really like the reduced-fat version since the original can be a bit greasy. Everything is so light with this pie. The crust, the filling, and the herbs really compliment the zucchini. Plus I really like the presentation. The sliced zucchini is so pretty and unique. The thin layer of mustard on the crust was a bit odd though. I like mustard, but it was strange to have one bite that had a prominent mustard flavor and another that didn't. I think next time I'll stir the mustard into the filling instead of spreading it over the crust separately. One slice is so low in calories that you can pair this with a yummy fruit salad. A fantastic lunch for Spring.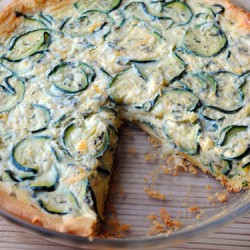 Italian Zucchini Crescent Pie
Ingredients:
4 cups thinly sliced zucchini (about 4 medium)
2 medium onions, chopped (1 cup)
2 tbsp. dried parsley flakes
1/4 tsp. salt
1/8 tsp. garlic powder
1/8 tsp. dried basil leaves
1/8 tsp. dried oregano leaves
1/8 tsp. pepper
1/2 cup refrigerated or frozen fat-free egg product, thawed
6 oz. (1 1/2 cups) shredded fat-free mozzarella
1 (8 oz.) can refrigerated reduced-fat crescent dinner rolls
2 tsp. prepared mustard
Directions:
1. Heat oven to 375F. Spray 12-inch nonstick skillet with nonstick cooking spray. Heat over medium-high heat until hot. Add zucchini and onions; cook 7 to 9 minutes or until tender, stirring frequently. Stir in parsley flakes, salt, garlic powder, basil, oregano, and pepper.
2. In large bowl, combine egg product and cheese; mix well. Stir in cooked vegetable mixture.
3. Separate dough into 8 triangles. Place in ungreased 10-inch glass pie pan. Press in bottom and up side of pan to form crust; firmly press perforations to seal. Spread bottom of crust with mustard. Pour egg mixture evenly into crust-lined pan.
4. Bake at 375F for 25 to 30 minutes or until knife inserted near center comes out clean. If necessary, cover edge of crust with strips of foil after first 15 minutes of baking to prevent excess browning. Let pie stand 10 minutes before serving.