I'm really kicking myself that I've had this recipe bookmarked for a few months and just now got around to making it. It completely rocked my world. Yeah, a dish with quinoa was that earth-shattering. Who knew? When I was making my list of ingredients I kept thinking this Spicy Grilled Shrimp with Quinoa Salad looked so familiar. I finally realized that my friend Julie over at Table for Two had made it earlier this month. Now I was really excited about firing up the grill!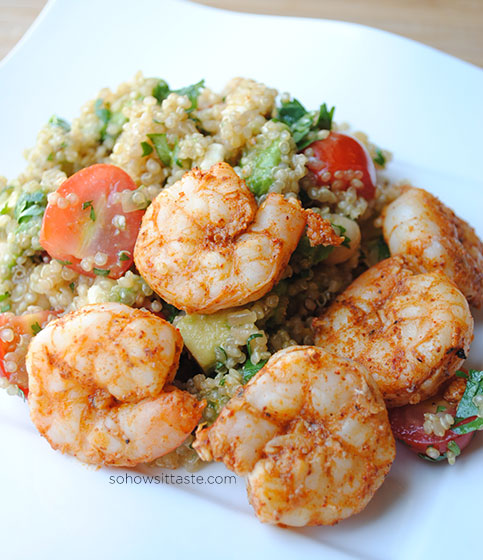 So, how's it taste?
I'm such a huge fan of shrimp, but not that crazy about quinoa. I knew this dish would be pretty good, but was completely taken by surprise that I absolutely loved it. I whipped it all up into a big bowl and instead of making a plate and sitting down at the table like a civilized person, I hovered over that bowl because I could not stop shoveling it in. The shrimp is so fantastic smothered in all those spices, but the quinoa is definitely the star. It's a little nutty, but then you get a bit of salt from the feta, creaminess from the avocado, sweet from the honey, a burst of freshness from the tomatoes, and a big dose of heartiness from the chickpeas. It's light and hits every taste bud just right. It's also very filling, but less than 400 calories for a serving. That's a win win in my book!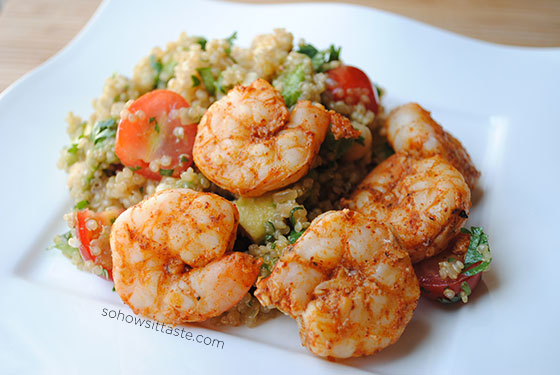 I loved this so much, I made the quinoa salad again for a light lunch without the shrimp. It was still just as perfect. A few things I did differently the second time around really improved it. I left out the 2 tablespoons of olive oil to the final salad. It really doesn't need it and that saves you a ton of calories. The first time I made this, I felt it was a bit too oily, so I left it out and it turned out much better. I also upped the feta a little. Not too much to blow the calories I just saved on the olive oil, but one ounce is way too little feta for four servings! This dish will definitely be in regular rotation at my house. I just hope I can make it to the table to eat it like a normal person.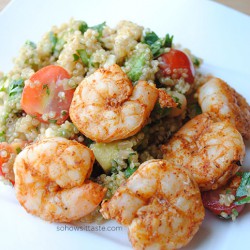 Spicy Grilled Shrimp with Quinoa Salad
Ingredients:
1/4 cup fresh lime juice, divided
10 tsp. olive oil, divided
2 tsp. chili powder
1 tsp. ground cumin, divided
1/4 tsp. black pepper
1/4 tsp. hot pepper sauce
1/8 tsp. Spanish smoked paprika
4 garlic cloves, chopped and divided
24 large shrimp, peeled and deveined (about 1 lb.)
3/4 cup uncooked quinoa
1/2 cup chopped onion
1 cup water
1/2 tsp. kosher salt, divided
1/2 tsp. honey
1 cup cherry tomatoes, halved
1/2 cup canned organic chickpeas, rinsed and drained
1/2 cup diced peeled avocado
1 oz. feta cheese, crumbled
Cooking spray
1/4 cup chopped fresh cilantro
Directions:
1. Preheat grill to high heat.
2. Combine 2 tbsp. lime juice, 1 tbsp. olive oil, chili powder, 1/2 tsp. cumin, black pepper, hot sauce, paprika, and 2 garlic cloves in a medium bowl. Add shrimp; toss well. Marinate in refrigerator 30 minutes.
3. Rinse and drain quinoa. Heat 1 tsp. oil in a large saucepan over medium-high heat. Add onion to pan; sauté 3 minutes. Add remaining 2 garlic cloves and quinoa; cook 2 minutes, stirring constantly. Add 1 cup water; bring to a boil. Cover, reduce heat, and simmer 13 minutes or until liquid is absorbed. Cool. Combine remaining 2 tbsp. lime juice, remaining 2 tbsp. olive oil*, remaining 1/2 tsp. cumin, 1/4 tsp. salt, and honey in a large bowl; stir with a whisk. Add quinoa mixture, tomatoes, chickpeas, avocado, and cheese; toss gently.
4. Remove shrimp from bowl; discard marinade. Sprinkle shrimp with remaining 1/4 teaspoon salt. Thread 3 shrimp onto each of 8 (6-inch) skewers. Place skewers on grill rack coated with cooking spray. Grill 2 minutes on each side or until done.
5. Divide quinoa mixture evenly among 4 plates. Top each serving with 2 skewers. Garnish with cilantro.
*Note: I recommend leaving out those last 2 tbsp. of olive oil. The salad doesn't need it and you'll save on calories!