I like eggs, I like veggies, and I like cheese, but I do not like omelets. Something about the fluffiness of the eggs and it being wrapped like a burrito. No thank you. Put a little Italian touch on it, call it a frittata, and that's a whole new ballgame. I discovered this very easy to make Potato, Red Onion and Feta Frittata.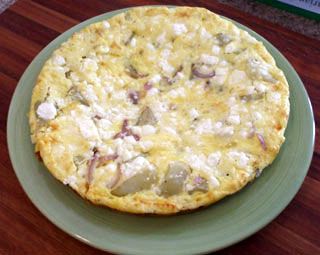 So, how's it taste?
First, this was super easy to make. Cook the potato, saute the onions, add potato to onions, add eggs, broil. What you end up with is a really delicious, light meal. Mine didn't turn out as pretty as the picture in my cookbook, but it sure was tasty. The feta cheese really adds a bit of saltiness to the potatoes that I liked. I think it would be a nice flavor to add a touch of cayenne pepper to this dish for some zip next time. It was really filling with the potatoes and eggs, but you could add a salad to complete this meal. I took the leftovers to work for lunch, so it's portable too! Finally found a way to eat an omelet, thumbs up on this one!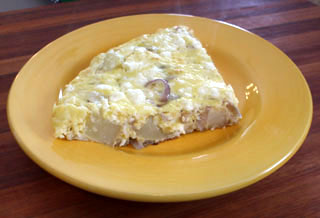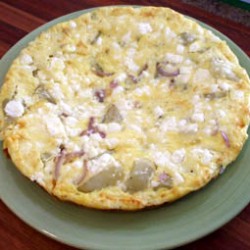 Potato, Red Onion and Feta Frittata
Ingredients:
1 red onion, sliced
1 tablespoon olive oil
4 new potatoes, peeled and thinly sliced
6 free-range, organic eggs, lightly beaten
1/2 cup of feta cheese, crumbled or finely diced
Salt and black pepper
Directions:
1. Place the potatoes in a sauce pan of boiling water and boil for approximately 4 minutes, drain and set aside.
2. In a non-stick frying pan add the oil and then the onions. Sauté over low heat for approximately 4 minutes. Add the potato slices and then pour the egg mixture over onion and potatoes. Sprinkle the feta cheese over mixture. Cook over low heat for approximately 4 to 5 minutes. Then place under a hot preheated grill for a further 3 minutes until eggs are set and slightly golden.
3. Cut into wedges and serve warm or cold with a side salad.