Is it fall where you are? Not here in Nashville. We've had weather in the 80s and 90s STILL. I'm thinking if I keep making cold weather meals, I can will fall weather this way south. This is the second weekend in a row that I've made this incredibly easy and delicious White Bean & Spinach Soup. It's so easy, you probably have most of the ingredients on hand. I used to be team fresh (garlic, lemons, onions, etc) and while I still appreciate that those items are better fresh, I find myself turning more and more to convenience items. And you know what? I'm not missing out on any flavor, but saving tons of time.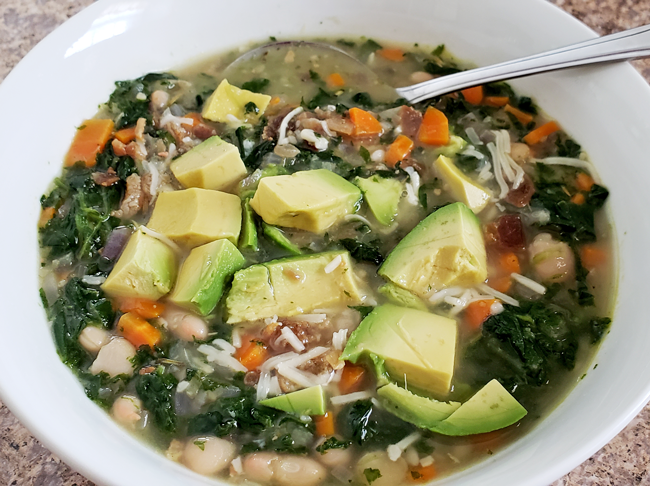 I say this recipe is super easy because I use frozen chopped onions (I always have a bag or two in the freezer), jarred minced garlic (I know, I know), Better Than Bouillon Chicken Base, and already cooked crumbled bacon. When I want a quick dinner, these items are life savers…and saves clean up time, too! You just have to be mindful of how you're using them because sometimes the fresh versions are truly better. In this soup recipe, the shortcuts work great!
This soup is so colorful and full of flavor. It's pretty good without the optional toppings, but ooo boy the bowl I had today was a game changer! A sprinkle of bacon, cheese, and chunks of avocado on top took this to another level. So, come on Nashville, where's my cardigan weather?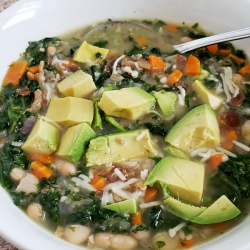 White Bean & Spinach Soup
Ingredients:
1/2 tbsp olive oil
1 small onion, chopped fine (frozen chopped onion will work)
1 carrot, peeled & chopped fine
salt
1 garlic clove, minced
1/4 tsp dried rosemary, crumbled
1 3/4 cups chicken broth
1/4 cup water
1 (15 oz) can white beans, rinsed (cannellini, great northern, navy)
5 oz frozen spinach, thawed & squeezed dry
bacon crumbles, optional
Italian blend cheese, shredded, optional
avocado chunks, optional
Directions:
1. Heat olive oil in medium saucepan over medium heat. Add onion, carrot, and pinch of salt; cook until softened and lightly browned, 5 to 7 minutes.
2. Stir in garlic and rosemary. Cook until fragrant, about 30 seconds.
3. Stir in broth, water, beans, spinach, and 1/2 tsp salt. Bring to a simmer and cook about 5 minutes. Season with salt to taste and serve with optional toppings like bacon crumbles, Italian cheese blend, and avocado chunks.
Note: Make this vegetarian by omitting the bacon and using vegetable broth. Additionally, make this vegan by omitting the cheese, too.
This post contains affiliate links.