Oh how much I love this Goat Cheese & Mint Pesto Sandwich. I first had it at Pinewood Social here in Nashville and it's been in my dreams ever since. The bad news? It's no longer on the menu. Oh the horror! What a dream crusher to have this awesome sandwich once and never be able to have it again…until today! I made my best attempt at recreating it at home. It came really really really close, so I'm happy. It's goat cheese, mint pesto, sprouts, and thinly sliced cucumbers and apples. It sounds like nothing spectacular, but trust me, it is. It's perfect for when you're craving something really flavorful, but not heavy.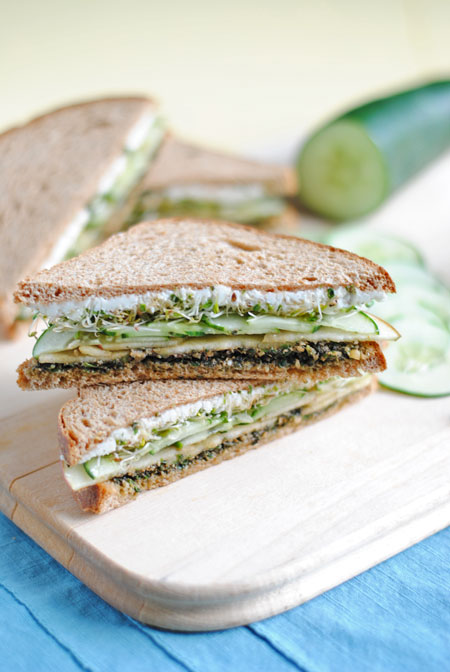 So, how's it taste?
Love my imitation sandwich! Below in the recipe area you'll see I give you two versions of mint pesto. One is the full on, full fat, regular pesto with olive oil and cheese. The other is a healthier version that skips the cheese and oil. In trying to be healthy and save some calories, I used the healthier version. It was really good, but wasn't quite spot on to the original at Pinewood. I think the key is using the pesto with cheese and olive oil. Take your pick!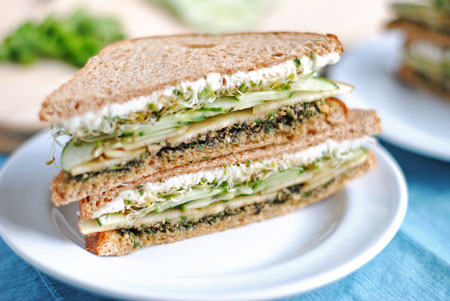 This sandwich is so refreshing thanks to the crisp slices of cucumbers and apples. I used Fuji, but I think tart Granny Smiths would work wonderfully. You all know I'm a big fan of texture and you get a nice mixture here. Creamy goat cheese and crunch from the sprouts, cucumbers, and apples. The mint rounds it all out with more freshness. Another perfect sandwich for warm weather!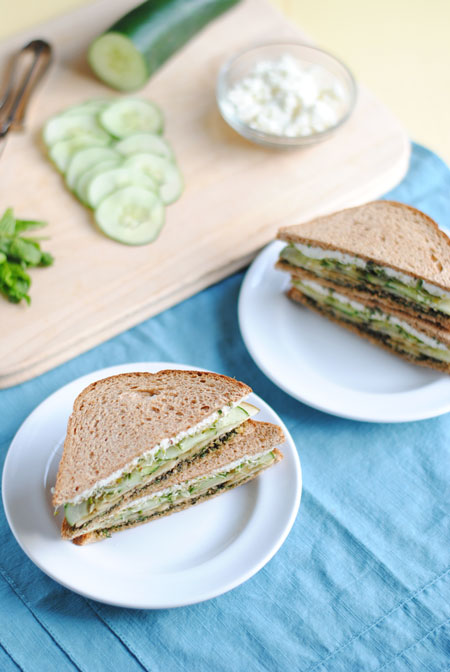 How was your weekend? Mine was awesome on Saturday. My mom came to visit and we went to the flea market where I scored a few more prop items. It's become an addiction! I got this really cool old egg separator, metal juicer, ladle, and another set of measuring spoons. I've seen these measuring spoons for $10 bucks in antique stores and I've now bought two sets each for $1. Holla!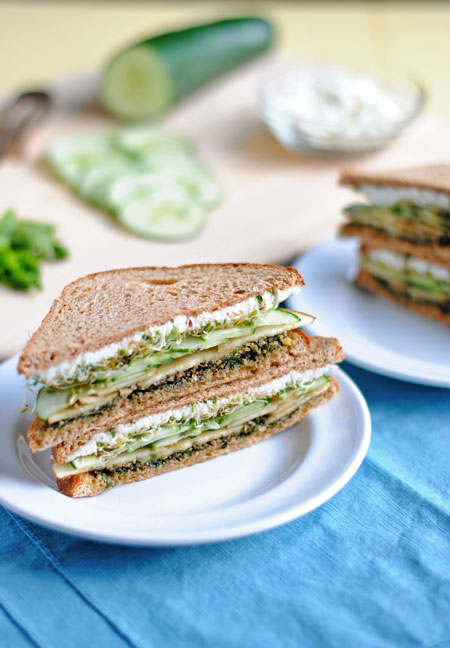 We also drove around Nashville looking at places for me to live. I've owned a condo for about eight years and I've been ready to move for about three, but thanks to the housing crash, I've been stuck. Now that the market is getting somewhat better, I've been working to fix the place up a bit and hopefully put it on the market soon. It's exciting and terrifying at the same time.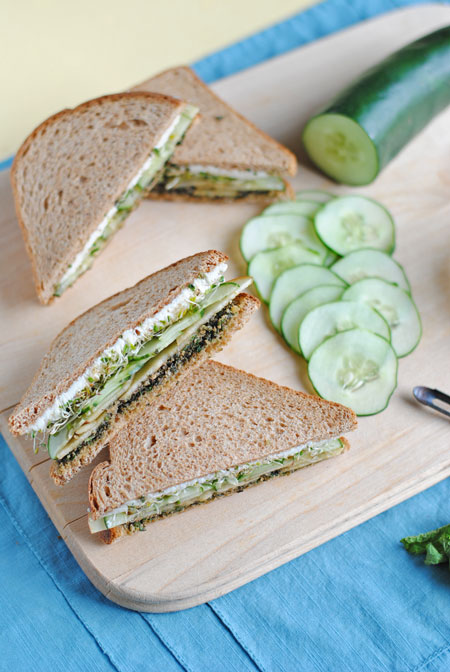 Exciting because I cannot wait to move closer in to Nashville, but terrifying because it's new and strange. There are things I'm looking forward to about being a renter like not paying for appliances or plumbing when there's a problem, and being able to move if I don't like it. Then there are things I'm going to miss. My garage being a huge one! Color on the walls, water dispenser in my fridge, glass stove top. Stupid little things that make me sad to lose. Plus I feel like I'm going at it a little backwards from owner to renter. And there's the whole space issue. I'll be downgrading in size and I'm looking around thinking "Where in the world is all this stuff going to fit?" I've got a few months before any of this gets in motion, but since I'm such a planner it's so front and center in my mind right now. I'll keep you posted and wish me luck!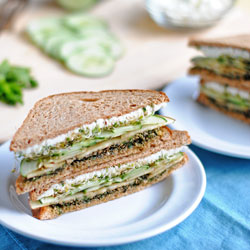 Goat Cheese & Mint Pesto Sandwich
Ingredients:
Mint Pesto (regular version)
1/2 cup roasted unsalted almonds (about 2 oz.)
1 small garlic clove, minced
1/2 cup finely grated pecorino cheese (about 2 oz.)
1/4 cup plus 3 tablespoons extra-virgin olive oil
2 1/2 cups loosely packed fresh mint leaves
salt & pepper, to taste
Mint Pesto (healthier version)
2 cups mint
1/4 cup low-sodium vegetable broth
1 garlic clove
1 tbsp. fresh lemon juice
2 tbsp. walnuts
salt & pepper, to taste
Sandwiches
8 slices wheat, flax, or multi-grain bread
1/2 cup goat cheese
1 cup sprouts
1 cucumber, very thinly sliced
2 apples, very thinly sliced
Directions:
1. For the regular mint pesto, pulse almonds with garlic in a food processor until coarsely ground. Add cheese and the oil; process to a coarse paste. Add mint, and pulse a few times until coarsely chopped. Season with salt and pepper.
2. For the healthier mint pesto, using a blender or food processor, blend all ingredients until smooth. Add salt and pepper to taste.
3. To assemble the sandwiches, spread 2 tablespoons of goat cheese on 4 slices of bread. Top the goat cheese with about 1/4 sprouts for each slice. Next, on top of the sprouts, layer the cucumber and apple slices. Spread the mint pesto on the remaining 4 slices of bread and top sandwiches.
inspired by Pinewood Social