Since it's been so long since I've featured pizza on the blog… (insert sound of record scratch here). I know, I know, it's more pizza. But it's pizza! I will never get tired of making pizza at home. This pizza stone has changed my life. I think you all will really appreciate this Pizza Arrabbiata. It's more traditional than other I've featured on the blog since it has a tomato sauce and mozzarella. Arrabbiata is a spicy sauce made from garlic, tomatoes, and red chili peppers and it's fantastic as the base for this pizza.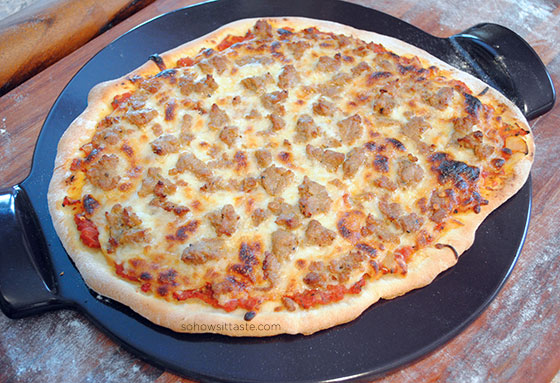 So, how's it taste?
Loved it! I have yet to meet a pizza I didn't like. I added hot Italian turkey sausage to mine and the original recipe calls for pancetta. I think any meat would work well and it would be equally fantastic without meat. My slices were super spicy since I had heat in the sauce and heat in the sausage. What I love about this pizza is that the sauce is homemade and takes seconds to make. It was so fragrant with the garlic and pepper.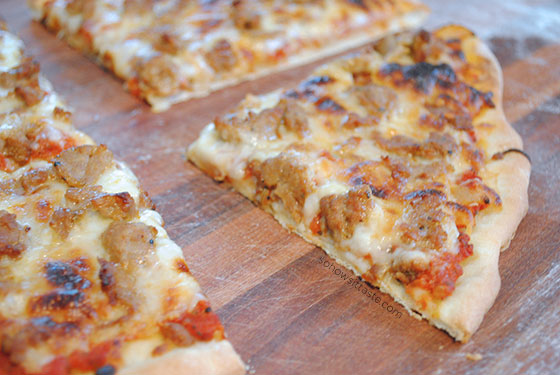 I want to make this again using fresh mozzarella and fresh oregano and no meat. I think it would be so good. This is a great recipe to have on hand and top with any topping you like. Leave out the red pepper if you don't want the spice.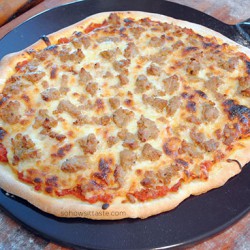 Pizza Arrabbiata
Ingredients:
12 oz. refrigerated fresh pizza dough
Cooking spray
1 tbsp. extra-virgin olive oil
1/2 tsp. crushed red pepper
4 garlic cloves, thinly sliced
1 (14.5 oz.) can unsalted diced tomatoes, drained
1 tsp. dried oregano
1/8 teaspoon salt
3 oz. part-skim mozzarella cheese, shredded (about 3/4 cup)
3 oz. Italian turkey sausage, cooked
Directions:
1. Place a pizza stone or heavy baking sheet in oven. Preheat oven to 500° (keep pizza stone or baking sheet in oven as it preheats).
2. Place pizza dough in a medium microwave-safe bowl coated with cooking spray. Cover and microwave at MEDIUM (50% power) 45 seconds. Let stand 5 minutes.
3. Heat a large skillet over medium heat. Add oil to pan; swirl to coat. Add garlic and red pepper; cook 4 minutes, stirring occasionally. Place tomatoes in a mini chopper; pulse 4 times or until almost smooth. Add tomatoes, oregano, and salt to pan; bring to a simmer. Cook 1 minute.
5. Roll dough into a 14-inch circle on a floured surface. Carefully remove pizza stone from oven; arrange dough on stone. Spread tomato mixture over dough, leaving a 1/2-inch border; sprinkle with cheese and sausage. Bake at 500° for 10 minutes or until crust is browned. Cut pizza into 8 wedges.