Last week I brought you a recipe for mac and cheese that I just adore. It's a bonus that it's low calorie, too. I promised to share with you another tasty low calorie dish that I eat with the mac and cheese. This Creamy Tomato Soup is low enough in calories that a small bowl of it is the perfect companion to those cheesy macaroni noodles. This is such a simple recipe, but has a lot of savory flavors that go so well with the creamy mac and cheese. One serving is about 74 calories and that's perfect to pair this with almost any entree!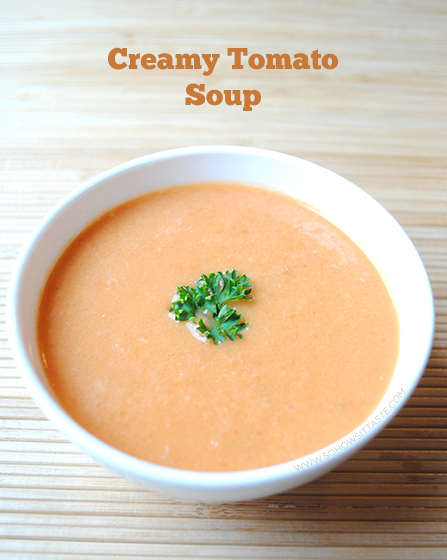 So, how's it taste?
I was surprised at how much flavor it has since the recipe is quite simple. It gets all its savory goodness from the onions, garlic, and cumin. There's only 1/4 cup of half-and-half for the entire batch, so it's not super creamy and decadent, but just enough to satisfy a creamy soup craving. I don't know why tomato soup goes so well with anything cheesy. This would be fantastic with a grilled cheese, and along those same taste buds, it goes great with that mac and cheese I mentioned. Both together feel like a lot of food to me and that's a huge plus when I'm serious about my calorie intake. You could really play with the flavors in this soup, too. Add some heat with cayenne, toss in some grilled veggies, or add your favorite herbs like oregano and basil!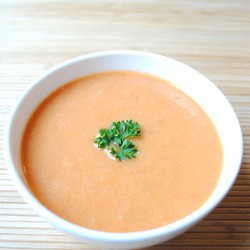 Yield: 6 servings
Total Time: 30 min
Creamy Tomato Soup
Ingredients:
1 tbsp. canola oil
1 1/2 cups chopped onion
1/2 tsp. ground cumin
3/8 tsp. kosher salt
1/4 tsp. hot smoked paprika
4 garlic cloves, minced
1 (14.28 oz.) can chopped unsalted San Marzano tomatoes, undrained
2 cups unsalted chicken stock
1/4 cup half-and-half
2 tbsp. coarsely chopped fresh flat-leaf parsley
1/4 tsp. freshly ground black pepper
Directions:
1. Heat a medium saucepan over medium heat. Add canola oil to pan; swirl to coat. Add onion, cumin, kosher salt, and paprika to pan; cook 8 minutes, stirring occasionally. Increase the heat to medium-high. Add minced garlic; sauté 1 minute, stirring constantly. Stir in tomatoes and chicken stock; bring to a boil. Reduce heat; simmer 15 minutes, stirring occasionally. Remove from heat; stir in half-and-half.
2. Place half of tomato mixture in a blender. Remove center piece of blender lid (to allow steam to escape); secure blender lid on blender. Place a clean towel over opening in blender lid (to avoid splatters). Blend until smooth. Pour into a large bowl. Repeat procedure with remaining tomato mixture. Top with parsley and freshly ground black pepper.
per serving (about 3/4 cup): 74 calories, 3.7g fat