I've been craving a lot of soup lately. I don't know if it's the weather around here (cold and rainy on some days) or just that time of year, but I want to eat soup all the time. While I have a weak spot for creamy soups, they can be high in calories and I'm trying to be good. I couldn't wait to make this Asian Pork & Noodle Soup. It reminds me of a twist on classic, comforting chicken noodle soup. It's a simple recipe with good-for-you ingredients and tons of flavor.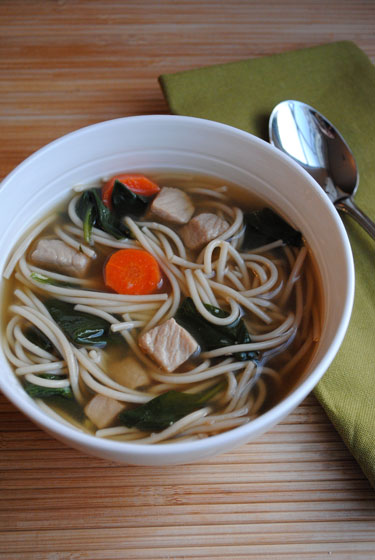 So, how's it taste?
Where to begin with this soup?! I wish I could send everyone reading this an instant bowlful. It's spectacular. I was surprised at the intense flavor from a few simple ingredients. It's a chicken broth base jazzed up with soy sauce, garlic, and fresh ginger. You could certainly use vegetable broth and leave out the pork to make it vegetarian. What I like best is the tiny chunks of ginger. Ginger adds such a wonderful, clean flavor and a little bit of spicy heat. Oh and the aroma! If you could make it into a kitchen candle, I'd burn it every day. The soy sauce adds a little something extra so it doesn't just taste like chicken broth. I used low sodium soy sauce and it worked great. The carrots and pork are tender, and the noodles and spinach round this soup out to make it heartier than you'd think. I added more than two cups of spinach, quite a bit more, and that works out well, too. I figure it's not adding to my calorie count and it's certainly healthy! It's surprising how full you'll be after a serving of this soup…and you've only made a 235-calorie dent in your day!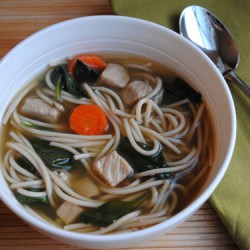 Asian Pork & Noodle Soup
Ingredients:
1 lb. pork boneless sirloin or loin, cut into 1/2-inch pieces
2 cloves garlic, finely chopped
2 tsp. finely chopped gingerroot
2 cans (14 oz. each) chicken broth
2 cups water
2 tbsp. soy sauce (low sodium works well)
2 cups lo mein noodles (4 oz.)
1 medium carrot, sliced (1/2 cup)
2 cups fresh spinach leaves
Directions:
1. Spray 3-quart saucepan with cooking spray; heat over medium-high heat. Add pork, garlic and gingerroot; stir-fry 3 to 5 minutes or until pork is brown.
2. Stir in broth, water, and soy sauce. Heat to boiling; reduce heat. Stir in noodles and carrots. Simmer uncovered about 10 minutes or until noodles are tender.
3. Stir in spinach; cook until heated through.