I've been crazy for pasta lately. Actually not lately, all the time. I'm a huge pasta lover, especially if it includes a creamy, rich sauce. Usually those kinds of sauces are off limits if you're hardcore into calorie-counting mode like me. Not this Creamy Spring Pasta. I found this recipe in Cooking Light and made it even less calories than their version! I think that deserves some kind of gold star!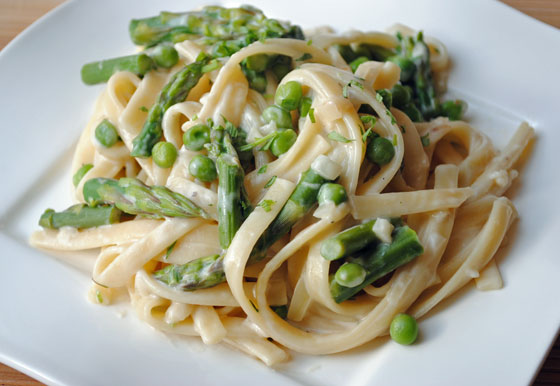 So, how's it taste?
I've made this twice in the last week, so that should tell you it was a great recipe. It lives up to its name with the bright green from the peas and asparagus. The veggies also add a nice texture to the fettuccine. The sauce is creamy and rich, thanks to the cream cheese. I even used REAL cream cheese, not reduced fat, and still managed to keep the calorie count low. If you want to go lower, you can certainly use less fat cream cheese. Since it calls for three ounces, I opted for the real stuff because you can buy it in a three ounce block, instead of a tempting huge chunk. Since the fettuccine is so thick, it makes for quite a hearty dish of pasta. If you want to bulk it up, shrimp or chicken would be a tasty addition. My favorite flavor is the tarragon. I've used dried tarragon before, but this was my first taste of fresh. It's on a different level and really makes this dish, so don't skip it or use dried. Fresh tarragon almost has a licorice flavor, but brighter. Don't be turned off by that description as I hate licorice and I loved the fresh tarragon. The pasta soaks up the sauce really quickly, so if you're making this for guests, serve it immediately. Reheating leftovers is no problem if you add a splash of milk to return it to its creamy texture.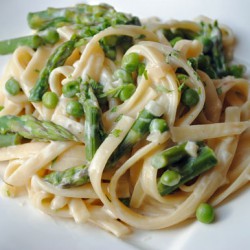 Creamy Spring Pasta
Ingredients:
3 quarts water
2 garlic cloves, minced
1 1/2 cups (2-inch) diagonally cut asparagus
1 cup frozen green peas
6 oz. uncooked fettuccine
2 tsp. olive oil
1/3 cup finely chopped sweet onion
1 tbsp. all-purpose flour
1/4 cup fat-free chicken broth
1 cup skim milk
3 oz. cream cheese
1 oz. Parmigiano-Reggiano cheese, grated (about 1/4 cup packed)
1/2 tsp. kosher salt
1/4 tsp. freshly ground black pepper
2 tbsp. chopped fresh tarragon
Directions:
1. Bring 3 quarts water to a boil in a Dutch oven.
2. Add asparagus and peas to boiling water; cook for 3 minutes or until crisp-tender. Remove from pan with a slotted spoon. Rinse under cold water; drain.
3. Add pasta to boiling water; cook 10 minutes or until al dente. Drain and keep warm.
4. Heat olive oil in skillet over medium heat. Add onion and garlic cloves; cook for 3 minutes or until tender, stirring frequently. Place flour in a small bowl; gradually whisk in chicken broth. Add broth mixture and milk to pan, stirring constantly with a whisk; bring to a boil. Reduce heat; cook 1 minute or until thickened. Remove from heat; add cheeses, salt, and pepper, stirring until cheeses melt. Add pasta, asparagus, and peas; toss well. Sprinkle with tarragon.