I love a comforting casserole. Simple and easy, and you usually don't have to worry about sides. Cut a big slice and dinner is served! This Enchilada Casserole is just that. It's not fancy, it's not pretty, but it's also not hard to make. I can have this ready in no time and the leftovers are even better! This recipe comes from my JCPenney Associate cookbook from 1996. I worked for their catalog store over Christmas break that year when I was home from college. I loved it! I could organize those shipments to my OCD heart's content. When I started they had a huge backup of returns to organize and ship back…yours truly knocked out that pile in a few days. I was the catalog store rock star! I remember every night closing the store and having to backup the day's accounts on huge floppy disks. My my how times have changed, but I'm still making this casserole!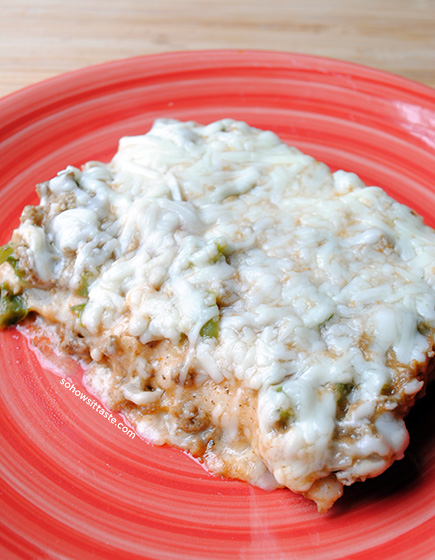 So, how's it taste?
Clearly I love it. It's not gourmet and not very showy, but it's delicious. When I got back to college after that Christmas, this is one of the first meals I made. Remember how I couldn't make a grilled cheese back then? Well, that was slowly changing. I remember freaking out because one of my roommate's parents were coming in town the night I was making this for dinner. I was super nervous to cook for them, but it was a success!
I like to crunch up tortilla chips and sprinkle them on top with a dollop of sour cream. Other than that, it's fabulous on its own. I'll admit it's kind of odd that it's ground beef and then you mix in a can of cream of chicken soup, so you have these tiny bits of chicken, too. It totally works though. For years I made this without the green pepper because until recently I didn't like them. This is the first time I included the green peppers and yum! The original recipe calls for corn tortillas, but I prefer the flour. The corn tortillas would probably hold up a bit better, as the flour ones get really soft, but I still prefer the flour.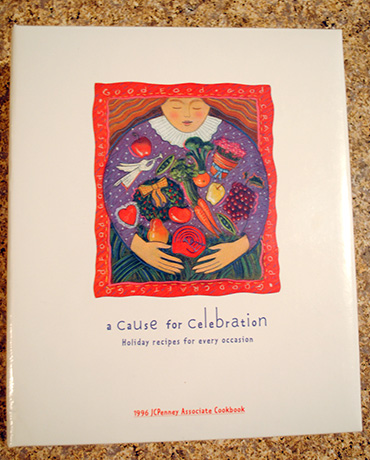 I cherish my JCPenney cookbook. It's a 3-ring binder so you can take out the recipes if you need to. It's organized by holiday, which I absolutely love. It also includes a killer corn casserole, so be sure to check out that recipe, too.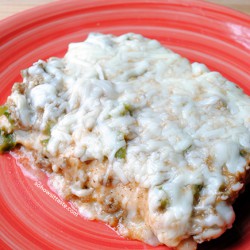 Enchilada Casserole
Ingredients:
1 lb. ground beef
1 small onion, chopped
1/2 green pepper, chopped
Salt
Freshly ground black pepper
1/2 tsp. cumin
10 3/4 oz. can cream of chicken soup
1/2 can (soup can) milk
1/2 cup salsa
8 small tortillas (I use flour, but corn works too)
2 cups mozzarella, shredded
Directions:
1. Preheat oven to 350F.
2. Brown ground beef, onion, and green pepper. Drain. Season with salt, pepper, and cumin. In a separate bowl, mix together soup, milk, and salsa. Add to meat mixture.
3. In a 9x13 dish, layer 4 tortillas (cut to fit), then meat mixture, and 1 cup of the mozzarella. Repeat layers.
4. Cover with aluminum foil and bake for 30 minutes. Remove foil and bake for a few minutes more until cheese is lightly browned.
Nancy Connors, 1996 JCPenney Associate Cookbook