I am a sucker for a runny egg. I absolutely love them. When I flipped through the November issue of Food Network magazine, I instantly stopped on the page for Eggs and Beans on Toast. Then I wiped the drool off my face. Their version is a bit different since their recipe calls for baking the eggs, but I didn't want to bake four eggs in advance, so I chose to fry mine. This way, I could make most of the recipe and store it in the fridge and all I had to do was fry an egg for the leftovers.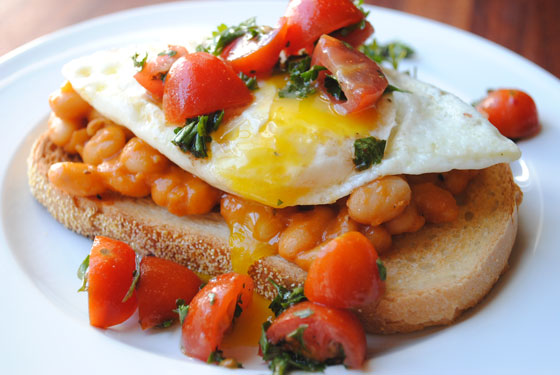 So, how's it taste?
I savored every bite. I'm thinking about going to the store and getting the ingredients to make this again as I type. This is going to be a meal I make several times in my kitchen. It's super quick and easy and the leftovers taste as if you just made it. The beans have so much flavor. Tomato paste, apple cider vinegar, honey mustard, and Worcestershire. Sounds a little odd, but it's phenomenal. Tangy, savory, slightly sweet, it appeals to every taste. Crunchy toast, creamy beans, runny egg, and topped with a burst of fresh flavor from the tomato salad. It's nothing fancy, but there's so much going on in every bite. It's great for a quick dinner or a hearty breakfast or just because you want really really good food quickly! Yep, I'm heading to the grocery store very soon.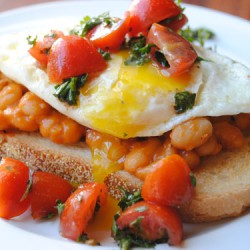 Eggs and Beans on Toast
Ingredients:
2 cups grape tomatoes, halved
1/4 cup fresh parsley, chopped
2 tbsp. olive oil, divided
1/2 small onion, chopped
1 tbsp. tomato paste
2 tbsp. apple cider vinegar
1 tbsp. honey mustard
2 tsp. Worcestershire sauce
1/2 cup water
Salt & freshly ground black pepper
2 (15 oz.) cans navy beans (1 undrained, 1 drained & rinsed)
4 thick slices crusty bread, toasted
4 large eggs
4 tbsp. butter
Directions:
1. Toss the tomatoes, parsley, 1/2 tablespoon of olive oil and salt and pepper to taste in a bowl. Set aside.
2. Heat 1 1/2 tablespoons olive oil in a large skillet over medium-high heat. Add the onion and cook, stirring until golden, about 5 minutes. Add the tomato paste and cook, stirring one more minute. Stir in the vinegar, honey mustard, Worcestershire sauce, water, and salt and pepper to taste. Bring to a simmer, then add the beans, plus the liquid from one of the cans. Cook until beans are soft, about 5 minutes.
3. Heat butter in another skillet on medium heat. Take one egg, crack it on the side of the pan and carefully slide it into the pan. Do the same with the remaining eggs. Add salt and pepper to taste, if desired. Fry the eggs until the egg whites have solidified and set, but the yolks remain runny. (Or you can fry one if you want a single serving and save the beans and tomato salad in the fridge for later.)
4. Divide the toasted bread among plates. Top each with beans, one egg, and the tomato salad.