I'm about to blow your mind. Zucchini noodles. Yep, you can make a pasta dish without the pasta. You may be a bit skeptical. I certainly was. I've already ranted about my dislike of whole wheat pasta, so I wasn't sure I should go messing with it again. After Jessica from The Novice Chef blogged about it and then Georgia from The Comfort of Cooking had it on her blog, I knew I had to try it. Zucchini Noodles with Lemon Cream Sauce is amazing. I didn't miss the regular pasta at all.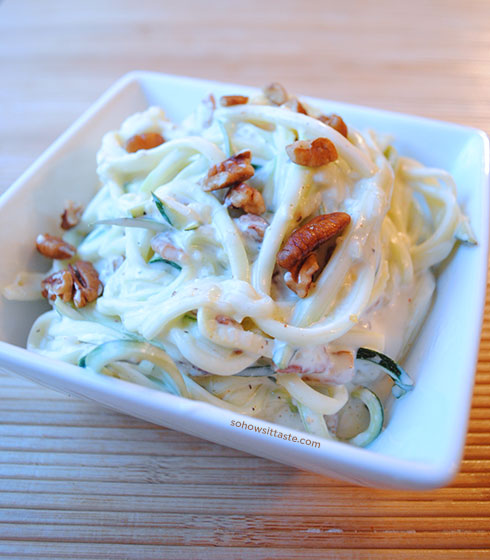 So, how's it taste?
I inhaled this pasta. I could not shovel it in my mouth fast enough. With one bite, any skepticism I had went right out the window. The zucchini cooks just a tad so it gets limp to mimic regular pasta, but it doesn't cook all the way so you have a slight crunch. Now, no one is going to mistake this for regular pasta. You know you're eating zucchini, but the zucchini has this great ability to take on the flavors of your sauce. It starts with garlic, then cream cheese is melted with cayenne and lemon juice, and it forms a thick, creamy sauce. I loved the hint of heat from the cayenne. Add some salt and pepper to taste, and it's that simple. I jazzed mine up with pecans and topped a few servings with feta. You can really get as creative as you want here. Add other veggies, more spices, more herbs! A good rule to follow is use about one ounce of cream cheese to each zucchini you have. Anything more and it's too much cream cheese. I made this dish a second time and didn't have lemon, so I used a few tablespoons of pesto instead. Equally amazing!
As the cream cheese melts and you stir in the zucchini, the water from the zucchini will make it look like it's curdling the cream cheese. Be patient, it's not. Keep stirring and it will get creamier. I made the mistake of adding in more cream cheese (as you can see it's too much in the picture) thinking that it wasn't enough, but the zucchini water really helps it become a sauce. If you need it to be slightly thinner, add a splash of milk or half and half.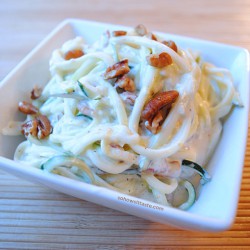 Zucchini Noodles with Lemon Cream Sauce
Ingredients:
1 tbsp. olive oil
2 cloves garlic, minced
4 oz. reduced-fat cream cheese
1/8 tsp. cayenne (or more if you like heat)
1 large lemon, juiced
4 medium zucchini, ends trimmed and peeled into noodles (use a julienne peeler or mandoline)
3 tbsp. pecans, chopped
kosher salt & freshly ground black pepper, to taste
feta, crumbled or Parmesan, grated to top (optional)
Directions:
1. In a large nonstick skillet, heat olive oil over medium-high. Add garlic and cook for 30 seconds. Add cream cheese, cayenne, and lemon juice. Swirl in pan until mostly melted.
2. Add zucchini noodles. Stir to coat with sauce for about 2-3 minutes. Water from the zucchini will make the cream cheese appear curdled at first (it's not!). Keep stirring until creamy.
3. Add pecans and season with salt & pepper to taste. Top with your choice of cheese. Serve immediately.