Mmm, burgers! I eat them year round of course, but it's during the summer you really start thinking about them. I don't think there's a burger that I'd turn down, and while I enjoy the classic, I like to experiment with different meats, toppings, and sauces. See what I've done so far in my new burger category. It was time it had its own! I made Dijon & Wild Rice Turkey Burgers not too long ago because I was curious about adding rice to the patty and I love dill.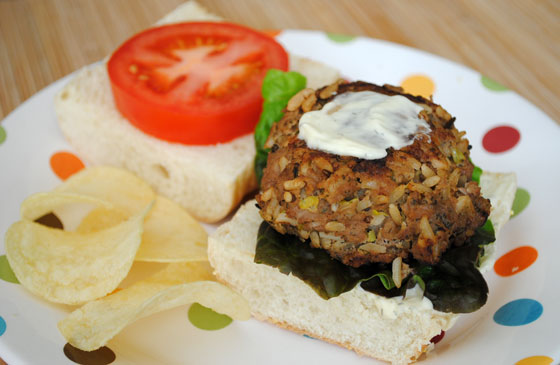 So, how's it taste?
Really liked these a lot. French bread slices are pretty tops in my book for a burger "bun." For this recipe, I used a wild rice mix that included long-grain rice and seasonings. I would recommend this as the seasonings added a lot of flavor. If you're a fan of dill, you'll enjoy this burger. There's dill in the burger and in the sauce. That wasn't enough for me, so I sprinkled a bit of dried dill on my finished burger. Exceptional! I do have one complaint though. This burger doesn't hold together well. I cooked mine using a skillet and an indoor grill would work nicely, but DO NOT cook these on an outdoor grill. I guarantee you they will fall apart and go through the grill. Then you'll never get to taste how awesome they are. Since they don't hold together, they make for quite a messy burger, but that's the sign of a good burger, right?
Here's a plus that will counteract my complaint…the burger is 350 calories! Even less if you use a low-fat mayonnaise like I did. A big burger with lots of flavor and a tangy sauce that won't put a dent in your calorie count.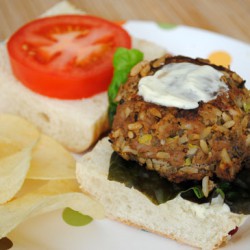 Dijon & Wild Rice Turkey Burgers
Ingredients:
Dilled Dijon Sauce
1/3 cup mayonnaise (low-fat works great)
1 tsp. chopped fresh or 1/4 tsp. dried dill weed
1 tsp. Dijon mustard
Burgers
1 lb. ground turkey
1/4 cup green onions, chopped
1 cup cooked wild rice (I used wild rice with seasoning)
1 tbsp. chopped fresh or 1 tsp. dried dill weed
2 tbsp. Dijon mustard
6 French rolls, split & toasted
Lettuce, optional
Tomato slices, optional
Directions:
1. Heat indoor grill pan* to correct setting according to the manufacturer or heat about 1 tablespoon of olive oil in a skillet over medium heat. In a small bowl, mix all sauce ingredients. Cover and refrigerate until serving.
2. In a large bowl, mix all burger ingredients except rolls, lettuce, and tomatoes. Shape mixture into 6 patties, about 3/4 inch thick.
3. Cook patties 12 to 15 minutes, turning once, until no longer pink in center and thermometer inserted in center reads 165F.
4. Serve burgers on toasted rolls. Top with sauce, lettuce, and tomato.
*Note: I don't recommend cooking these burgers on an outdoor grill. The burgers don't hold together well and will fall through the grill. An indoor grill or skillet is recommended.