Yep, it's another one of my healthy food finds. I've been making this version of Chilaquiles for a few years now. It's one of my go-to dishes when I need a lower-calorie option and want to have enough leftovers for work. You'd have a hard time guessing this version is better for you with two kinds of cheeses! The leftovers are just as good as when it's fresh out of the oven.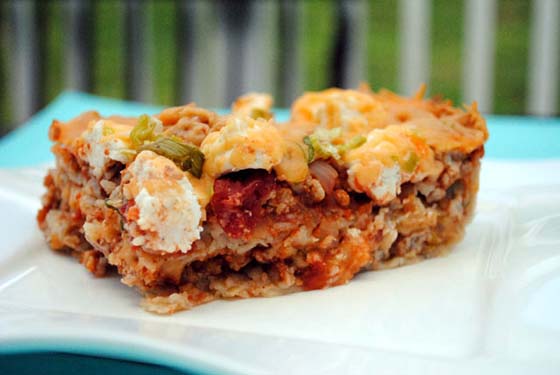 So, how's it taste?
I still surprise myself every time I take that first bite. The ingredients are so simple, but it's a ton of flavor bursting in your mouth. The beauty of this dish is that you can use any lean ground meat. I've made this with beef, turkey, and pork. All three worked great. The best part for me is getting a dollop of the cream cheese in my bite. Smooth and silky, it goes really well with the meat and tortillas. Lots of textures going on with all the layers. This dish is easy to prepare and the leftovers freeze very well.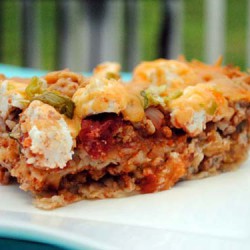 Chilaquiles
Ingredients:
2 tbsp. canola oil
1 lb. lean ground meat (beef, turkey, pork, chicken)
salt
pepper
1 red onion, chopped
4 garlic cloves, minced
1 1/2 tsp. chili powder
1/2 tsp. cumin
2 (15 oz.) cans tomatoes with green chiles, drain juice from one can
8 to 10 corn tortillas
8 oz. cream cheese block, cut into cubes (regular or low-fat)
2 cups shredded Cheddar (regular or low-fat)
1 bunch green onions, sliced
Directions:
1. Heat a large pan over medium-high heat and add 1 tbsp. of the oil. Add the ground meat. Brown the meat, breaking it up as it cooks. Drain off the liquid and transfer the meat to a bowl. Season to taste with salt and pepper.
2. Add remaining 1 tbsp. of oil to the pan and turn heat to medium. Add the onion, cook stirring often, about 3 to 5 minutes. Add the garlic, chili powder, and cumin and stir together 30 seconds or until fragrant. Return the meat to the pan and stir with the onion and spices until well coated. Add the tomatoes and simmer for 15 minutes.
3. Preheat the oven to 350. Spray a 2-quart casserole dish with cooking spray and line with half of the tortillas. Tear tortillas to fit dish. Top with half the meat sauce. Add half the cream cheese over the sauce, then sprinkle with half the Cheddar and half the green onions. Repeat the layers.
4. Bake 30 minutes, until bubbling.