I think you're going to love this recipe for Alabama-Style Shrimp Bake. Not only that, but you'll love where it comes from. Remember Forrest Gump? You know, "life is like a box of chocolates." Remember the loooooonnnnggg list of ways to cook shrimp? Well, they made a cookbook! I am not kidding! It's the The Bubba Gump Shrimp Co. Cookbook
and it's pretty fantastic. It's got quotes from the movie throughout and pretty much all gazillion ways to cook shrimp. Now don't go sending me comments about this recipe being very similar to Louisiana Barbecue Shrimp. Ain't nobody got time for that debate…just eat the shrimp and call it whatever you want.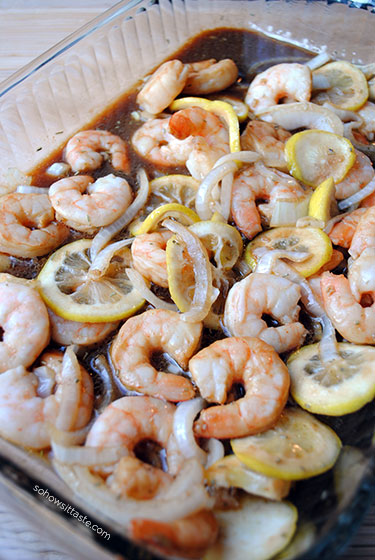 So, how's it taste?
Well, I took it out of the oven, snapped a few pics, then grabbed a fork and ate it like a boss hovered over the dish. I scarfed it down like it was my job, and could've turned up the dish and drank the sauce if it weren't for that darn pan being so hot. My only regret is not having a big ol' piece of bread to sop up that delicious sauce. It's really simple, but so easy. Melt butter, add a bunch of flavorful yumminess, then layer shrimp with lemon slices and onion. It's tangy and has just the right amount of heat.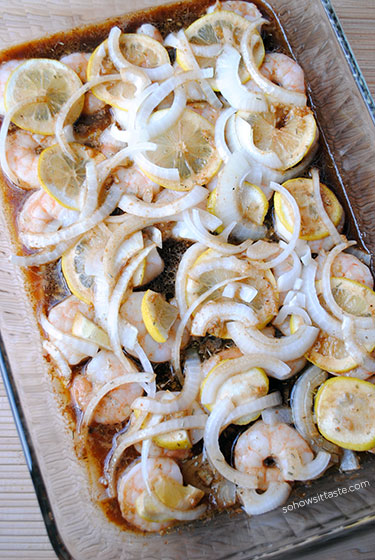 I reduced the butter by half (what?!) and that seemed to work well because it was a lot of sauce and it made my flavors stronger. If I was off the calorie-counting wagon, I'd go full force with the butter…just more to sop up! I also used shrimp that was already peeled and took the tails off. I hate peeling shrimp and dealing with the tails after it's cooked and swimming in sauce. I also made half the recipe, so what you see pictured is half of what's in the directions. Seriously, if you're a shrimp eater, you need this in your life. Next time I want to invite some friends over, add red potatoes and corn on the cob, and we we can all hover over the dish with our forks and chow down. 😉
Alabama-Style Shrimp Bake
Ingredients:
1 cup butter, melted (I used 1/2 cup)
3/4 cup lemon juice
3/4 cup Worcestershire sauce
1 tbsp. salt (I used seasoning salt)
1 tbsp. freshly-ground black pepper
1 tsp. dried rosemary
1/8 tsp. ground red pepper (cayenne)
1 tbsp. hot sauce (I used Sriracha)
3 garlic cloves, minced
2 1/2 lbs. unpeeled large or jumbo fresh shrimp (I peeled mine)
2 lemons, thinly sliced
1 medium onion, thinly sliced
Directions:
1. Preheat oven to 400F. Combine first 9 ingredients (through garlic) in a small bowl; set aside.
2. Rinse shrimp with cold water; drain well. In an ungreased 9x13x2-inch baking dish, layer shrimp, lemon slices, and onion slices. Pour butter mixture over shrimp.
3. Bake uncovered for 20-25 minutes (less if you're using peeled shrimp) or until shrimp turn pink, basting occasionally with pan juices.
Source: The Bubba Gump Shrimp Co. Cookbook
This post contains affiliate links.