I wanted to find a recipe that wasn't your usual throw-it-in-the-slow-cooker and go meal, so I was thrilled when I came across Beef Stroganoff Topped Potatoes. I love, love, love baked potatoes, and I'll top them with just about anything. One of my favorite meals is a baked potato because it's so versatile whether it's topped with veggies, chicken, or just plain sour cream. This recipe takes a classic dish and serves it in a unique way instead of over noodles. Another plus? It led to a second encounter with Mr. Blue Eyes and yet another "dying of embarrassment while learning about cuts of meat" moment. Not familiar with Mr. Blue Eyes? Now's the time to catch up.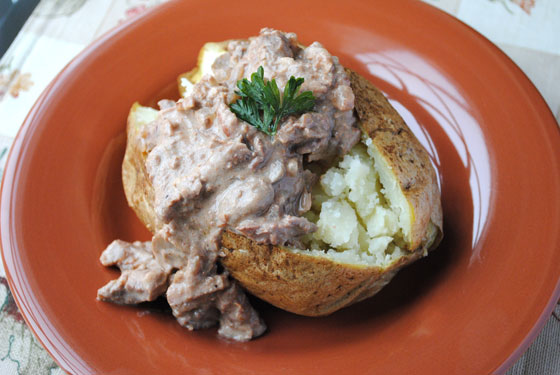 So, how's it taste?
This was such a tasty twist on beef stroganoff. It's so simple to throw the ingredients together in the morning and have a nice meal ready for you by dinner time. The meat was very tender from the slow cooker and had all the flavors of stroganoff that you'd expect. I did find I needed to add a lot of salt to my servings, but other than that, it was very satisfying. I ended up freezing the stroganoff in portions and it made for super easy leftovers.
I didn't follow the directions on baking the potatoes because I find they taste better when baked in the oven. Bake the potatoes about an hour before the stroganoff is ready. Pierce the potatoes with a fork and lightly rub with a bit of olive oil. Bake at 425 degrees for one hour. It takes longer than the microwave, but trust me, it's much better. I also bake all the potatoes at once and those I don't eat right away, I cover in aluminum foil and store them in the fridge. Heat them up (minus the foil) in the microwave and you've got oven-baked taste in no time!
Ok, so enough of the potatoes, right? Get to the fun part! The recipe calls for boneless beef round steak. Easy enough…or so I thought. Do you know how many beef round steak options there are? Top round, bottom round, eye round. I'm standing there staring at all my options and luckily I see the young meat guy close by. I actually said in my head, "Shew, thank goodness it's not Mr. Blue Eyes." Because you guessed it, once again I'm looking like I just stepped off my treadmill (which in my defense I had – I've got to stop going to Publix right after a workout).
I guess I stumped the young 'un with my beef round steak and he says, "I'm still kinda new. Let me get someone who knows." A few minutes later, I'm face to face with ol' Blue Eyes. I'm actually pretty nonchalant at this point because it's not like he hasn't seen me in all my I-need-a-makeover glory already…and that lasted about 10 seconds. I asked about the difference in the cuts and he goes into great detail about round steak comes from the rump. And I kid you not, grabs his rump area for a demonstration.
Is this guy for real?! I seriously had to look away for a split second for fear of just cracking up! There's this tall, handsome, blue-eyed man grabbing his arse to help me learn about meat. Why I don't have a reality show yet is beyond me. He ended up asking me what I was making (you may now enter the jokes about stroganoff here – I can't make this up, folks) and guided me towards buying the meat already cut up for fajitas. It was actually pretty genius. It's the same meat and you're going to have to cut it in strips anyway. That Mr. Blue Eyes sure does know his meat.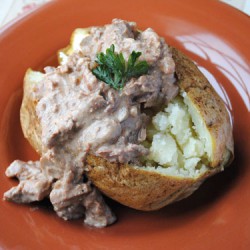 Beef Stroganoff Topped Potatoes
Ingredients:
1 medium onion, chopped
1 1/2 boneless beef round steak, cut into 2 x 1/4 inch strips
2 (4.5 oz.) jars sliced mushrooms & garlic, drained
1 tsp. beef base
1/4 tsp. pepper
dash nutmeg
1 tbsp. dry sherry or water
6 medium baking potatoes
1 (8 oz.) container sour cream
1 tbsp. all-purpose flour
1 tbsp. ketchup
parsley, optional
Directions:
1. In a 4-6 qt slow cooker, layer onion, beef, and mushrooms. In small bowl, combine beef base, pepper, nutmeg, and sherry; mix well. Pour over beef mixture.
2. Cover; cook on low setting 8-10 hours
3. About 20 minutes before serving, pierce potatoes several times with a fork. Place on microwave safe paper towel in microwave. Microwave on high 10-13 minutes or until tender, turning over and re-arranging 1/2 way through cooking. Let stand 5 minutes.
4. Meanwhile, combine sour cream, flour, and ketchup; blend well. Stir into beef mixture. Increase to high setting, cover and cook an additional 5-10 minutes or until slightly thickened.
5. To serve, lightly roll potatoes on counter to soften center. Cut potatoes in half lengthwise; place on individual serving plates. If desired, sprinkle with salt. Spoon beef mixture over potatoes. Sprinkle with parsley.